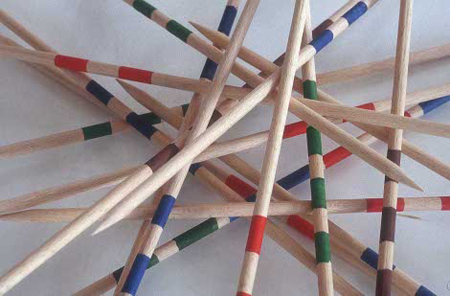 I'm a firm believer that if you toss a handful of pick-up-sticks — or an armload of giftwrap rolls — in the middle of a gallery and call it art, it's not. We can argue whether the result is aesthetically pleasing, but not whether it's a work of art. It's blatant Day Glo reverse pretension. Nothin' to it folks, leave your email on my mailing list. I can get kicking screaming mad on this point. If that's all you can show me of human heart, mind, intuition and intention, get outta my way.  Randomness may work with the I Ching but it's not enough in art.
So when I first saw this Jessica Stockholder artwork online I bristled.
But still the piece hooked me — I couldn't get past it.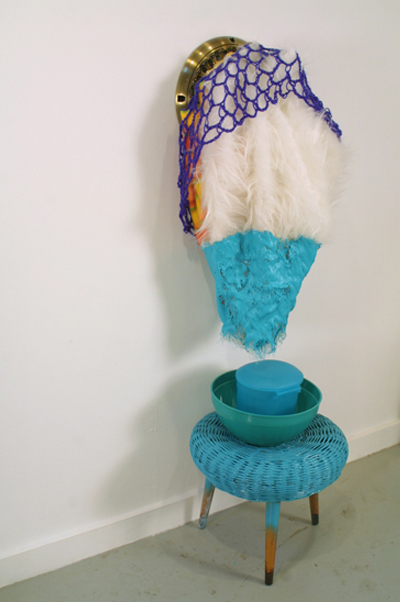 Why not? Because this isn't randomness, there's artistic intention here.  The main mass — a rabbit fur coat? a bunch of feather boas? — has been dunked in a very large vat of singular turquoise. Vibrant, not such an easy color to find. In fact it points to how dull the colors piled below are, the edgy odd blues and greens. The blue-purple crochet draped on top is the keystone that holds her arch in place.  The color that makes sense of the others, wakes the work up out of Just OK.
This is the art of Jessica Stockholder. Leave your assumptions in the recycling bin as you go.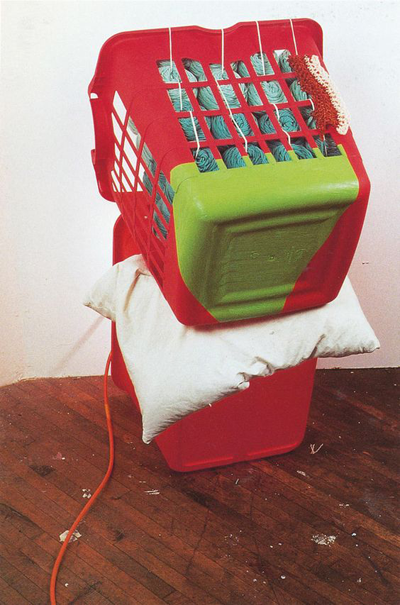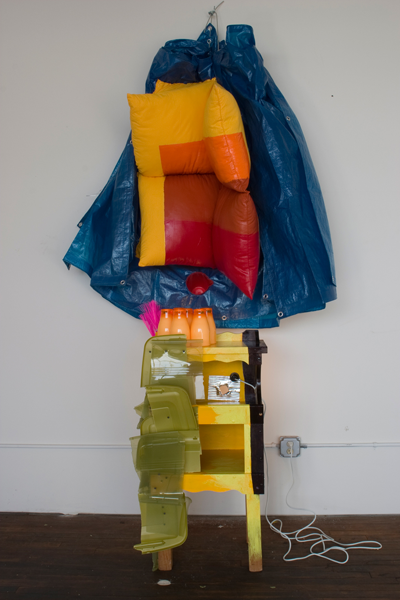 ______________
From an interview with Jessica Stockholder in Journal of Contemporary Art:

[Interviewer Klaus] Ottmann: There is that danger of junk becoming "art" by itself, without the artist adding meaning.

Stockholder: I rely on that tendency to aestheticize as I do on chance and happenstance. What's exciting is how the more clearly structured, more formal, more pictorial side of the work meets the more chaotic — sometimes very clearly and logically, then bleeding off in all kinds of directions.
I see it as a mesh of Kaprow, Tinguely, and the surrealists on the one hand, using chaos and chance and making systems out of happenings; and on the other hand, meshing that kind of thinking with formal painting and minimalism. John Cage's thinking also had a lot of influence.   
I'd love to fill out this thought by her naming influences in painting.
_____________________________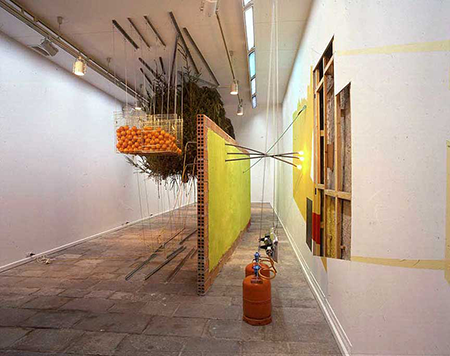 I see Stockholder's art is kindred to that of Sarah Sze in its use of outrageous materials. Each understands sculpture's three dimensions differently than did Praxiteles or Rodin.  Both are used to a rhythm of install-then-dismantle that challenges traditional artistic intention. It is much more like stage design, except it's not designed to highlight writing or actors.  And both artists incorporate light into their work as if it's one of the extra colors in the novel A Voyage to Arcturus.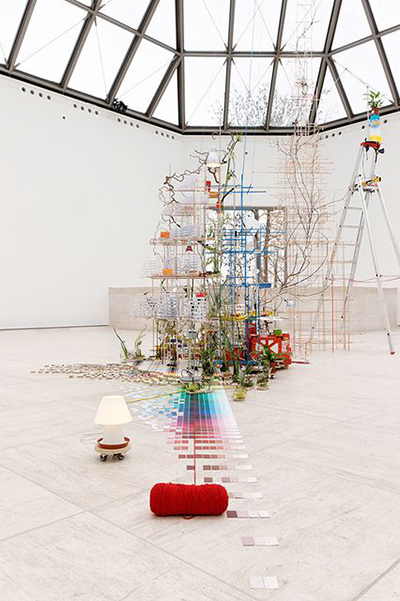 Sze's work is filamental, delicate as an insect's legs. Stockholder prefers a more emphatic scale. They each have conjured some huge art. Stockholder's Once Upon a Time measures 45 feet. Not her largest. Sze does installations that can reach from one museum level to the next.
Wonder what conversation these two authentic and astute artists would have together?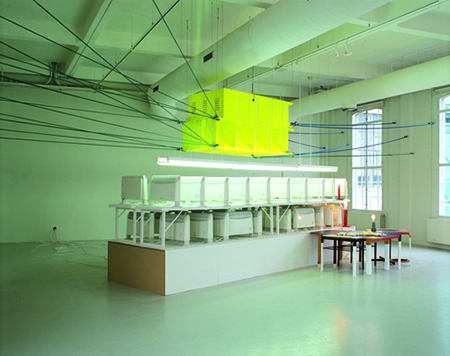 _____________________________