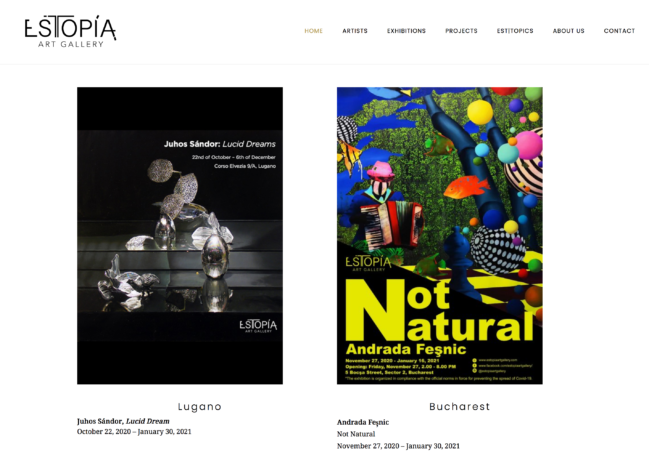 Gallery of Eastern Europe Challenging Western Europe
While looking at art by Edith Torony I came upon a gallery committed to the work of Eastern European artists. Estopia. It's probably no surprise that artists from less globally renowned countries find it harder to break into Western galleries where the pay-offs and exposure are more delicious.
What I see here must happen in the US with particular galleries focusing on specific regions — Midwest, Deep South, New England — or cities — Los Angeles, Chicago, and oh yeh, New York. But Estopia serves a different regionality than what national boundaries define.  Here is a sampling.  Small Is Beautiful. Contemporary Artists from Kosovo, 2017; Istanbul Codex. Contemporary Artists from Turkey, 2016; Voices of Transition. Contemporary Artists from Slovenia, 2016.

I recently found a gallery in Austin, Texas. It's motto was so dear I sent it to a friend who's just moved there. Don't be all boots and no saddle.  Estopia will have to provide their own appropriate motto as they have defined their own turf.
Pages of Estopia you may want to cruise.
Estopia actually has two galleries, one in Bucharest, Romania and one in Lugano, Switzerland. I remember Eastern Europe as treasuring a surreal and detail-loving aesthetic. Top of the line. But that goes way back to the Cold War and the world of art has tossed like salad since. I look at Estopia's artists and see a lot to like. Heavy both on cerebral and raw.
It's good for us in the United States, padded from other realities, to get wiser about the giant world. It's hard to remember when we've got the Grand Canyon, the Everglades and New York City that other great big continents are bustling with urgencies unlike ours.