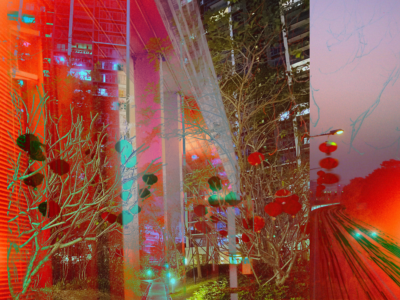 A few weeks ago I heard the unmistakable sound of chainsaws and I was angry. Why, when so many people are about to die, are you cutting down a living thing? You yourself may be equally aghast that I am choosing this same moment to debut a website.
Like most animal life, I have a fear of death. The eagle carrying an ibex from its crag as much as the ibex now swaying above giddy canyons. I'm clear that if I contract covid-19 my odds of surviving are dim indeed.
So, urgency. Because I lost five years to an undiagnosed illness and the two ensuing years to the tragicomic tale of getting this site written. Urgency.
It's nearly done. It isn't done.
In those same two years I've made thousands of digital artworks. My audience can be counted on ten fingers, with a few left to snap. Goddam I want the satisfaction of having this work seen while I'm still alive to enjoy it.
I ask something of you. Will you please follow me  (button lower right edge) for four weeks?  By then you'll know whether my project interests you. One or two weeks won't cover enough ground. If you don't connect you can unfollow me in Week Five. But please give me the chance.
So here's an incompletely realized site. You're looking through a hole in the plywood at the orange extension cords, the windows waiting to be installed. Some things are screwy, some aren't there yet. But my art needs out into the real world now.
____________
These 5.9.20 & 5.11.20 posts will be archived under About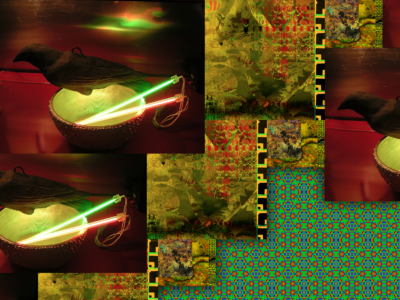 This site is an experiment. Instead of a traditional artist's site devoted solely to my art, I figure I'm me and all the things that interest me relate to what I do in art.
In how many guises can you combine images? This is my main interest. That they convey emotional meaning to you.
Ergo –
My hobby is keeping up with science. Expect science.
A blog is actually a recognized art form. I'll play with its blogging software, plugins, etc.
Unusual vocabulary terms delight me.
Politics anguish me. I'll comment on them.
The logical ins and outs of D-ness (2D3D4D) are never far from my mind.
And if I think something is funny, notable, damned clever? You'll find it in the blog.
You will get every velvet glove and sharp elbow of me.
Welcome to my site. Come right on in!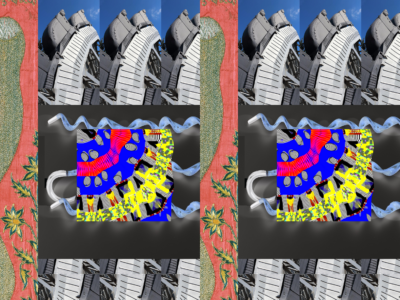 This new work, like my work before, consists of pieces baked into whole artworks. Magazine and book images that I owned, photographs I took, glass objects from Pier One and antique stores, rocks with faces…
My interest is in how pieces combine. We diagram a sentence to reveal the grammatical structure. Nouns, verbs, phrases. Each owns a niche. This isn't possible in the far more complex field of visuals. Total dimensions size, the relative size of elements, media, how paint and charcoal may mix (or graphite and pastels), color, importance of chiaroscuro or vagueness, angularity, brio. As endless as visual experience can be.
I want to show you also something I've just noticed this year. My style of mixing images changes as the source of those images changes. I assume the same image sources would solicit a different interpretation in another artist's mind.
It breaks down into categories that I can name (Abstraction, Storyform, Landscape…) so I'll show you images in batches that make sense under a more descriptive label than just "mine".
My new rules for artwork are:
That absolutely every image is valid to use. If it has notes to myself scrawled across it, if it has a footprint. However the scrawl or footprint has to be accommodated in the final composition. Used, just like the image itself.
If I notice myself relying on old habits I try to shake things up.
If I commit a finger-fault that changes the path my art is taking, I stay with it and see where it goes. Usually it leads me to an interesting elsewhere.
This is uniquely digital but I'll keep the practice if I move to paint or hammer and wood.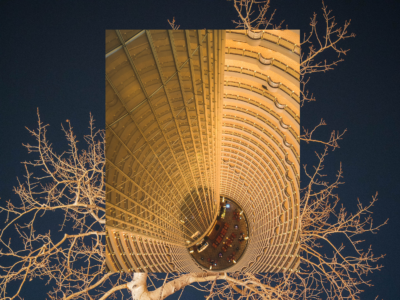 Created will take you to the work I do when creativity takes over. I'm not thinking things through, I'm asking my gut. And getting answers. This can happen both with visuals and words.
Reasoned leads to my blog. I think about things, I argue with ideas and with myself, I report and examine. I applaud. Visuals are used as illustration, as decoration, but the blog is mostly words.
The Playground serves as an ongoing answer to society's thirst for an artist's statement. It will change often and reflect the delight I take in trying new equipment, apps and art gambits.
Past Work is my old website ported into WordPress. It includes some of what I was fascinated with in former times.
Categories and Tags are currently in abject disarray and will improve by the time this raw website plumps out in rosy good health.
About includes Why this site, why now?; About the site; About this New Work; About the Artist — written and artwork; Site Organization.
Links (when they appear) will lead you to collections of images I've made on Pinterest and elsewhere. Public Domain sources I like. Mac software I've found useful. A goodie basket kind of place.