A note from your blogger.  I've recently become obsessed with trying to lay out some of the abstractions I've thought about for years.  Can I make something of them?  Something coherent?  This post was going to be a first whack at that but it isn't.
This post is about the Chinese artist Xu Bing and his massive Phoenix Project now showing at the Massachusetts Museum of Contemporary Art in North Adams, MA.  And also about the ancillary show being advertised at Harvard's Sackler Museum.  Which isn't open.  Except.
Except it turns out, after a Keystone Kops day in Harvard Square, Cambridge, that the ancillary show is at the Arthur M. Sackler Gallery in Washington DC and not at the Arthur M. Sackler Museum in Cambridge.  Access to which sits in a molasses-like gyre of construction, road work and lament.
Live and learn — and duck the cream pies.
_________________________________________________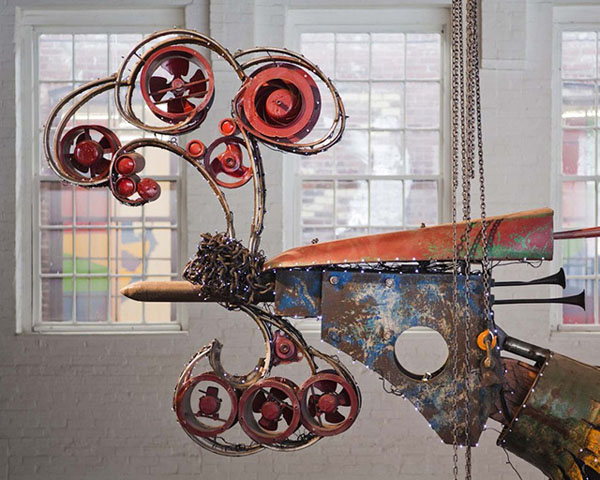 Head of one Xu Bing's mighty phoenixes at Mass MoCA.     via Colossal
Drawing inspiration from the contemporary realities of his fast-changing country, Chinese artist Xu Bing spent two years creating his newest work, Phoenix. The installation features two monumental birds fabricated entirely from materials harvested from construction sites in urban China, including demolition debris, steel beams, tools, and remnants of the daily lives of migrant laborers. At once fierce and strangely beautiful, the mythic Phoenixes bear witness to the complex interconnection between labor, history, commercial development, and the rapid accumulation of wealth in today's China. 

This is the premier appearance of the sculpture outside China (the works were exhibited briefly outdoors at the Today Art Museum in Beijing, and then at Expo10 in Shanghai). At MASS MoCA, the internally illuminated 12-ton birds are suspended mid-air inside the museum's football field-sized Building 5; dwarfing visitors, the male Phoenix Feng measures 90 feet long, while the female Huang reaches 100 feet in length, beak to (steel) tail feathers.    
Xu Bing himself says
"We are seeing numerous buildings emerging in China and few people are interested in the deserted construction materials as they are marveling at the majestic buildings," explained Xu, adding that he was quite shocked when he saw the poor conditions that constructing workers lived in two years ago when he was conducting research for his work.

Xu then came up with the idea of incorporating discarded building materials in his work after visiting several sites. "Through my work I'm trying to make people think more about what happens behind large-scale city construction."

via jingdaily
_________________________________________________
Phoenix Project's powerful midair display in Beijing, hanging from cranes.  Ah, to have seen such elegant behemoths soaring in majesty through the skies.  Perhaps the sculptures rattle in the wind.  The extravagance of this flowing tail aptly evokes mighty mythology — a lesser artist would have cropped the tail midway.

via ForestGospel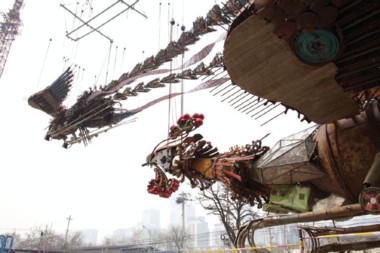 via ValleyAdvocate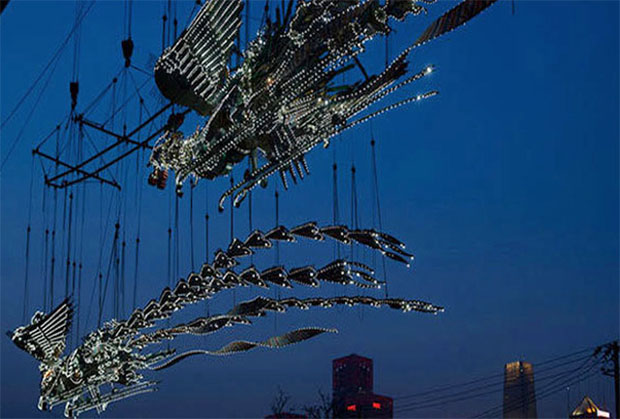 The phoenixes also have LED-lit nighttime personas.         via Colossal
_________________________________________________
I'll see Mass MoCA's phoenixes in a couple weeks.  They hang inside one of the museum's signature vast chambers, Building 5.  I regret they will not be hanging in blue sky and will present with meddlesome background noise (windowpanes, beams, people in shorts).   And without enough distance available to take them in as entities in their natural habitat — wide freewheeling space.
I'm hoping that the LED-lit night view will abstract the birds from their background enough and provide them with a semblance of sinuous life.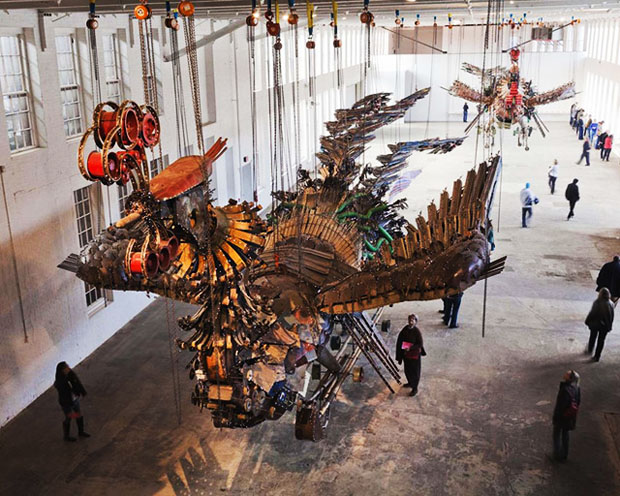 via Colossal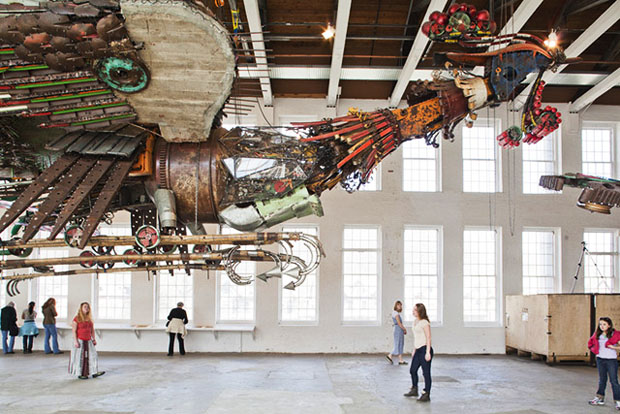 via Colossal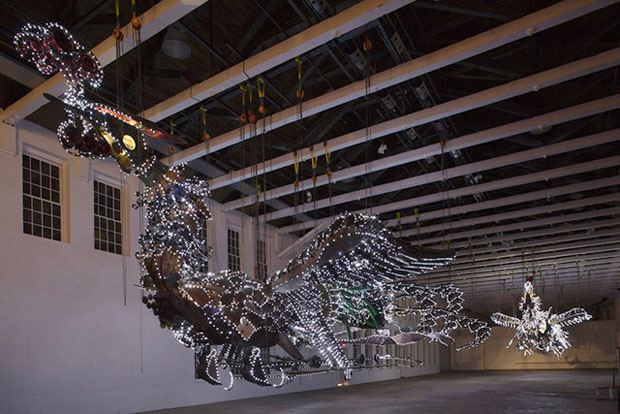 via Colossal
_________________________________________________
Does it strike you as odd that related exhibits are mounted 6-7 hours travel apart?  If you're in the Washington DC area don't miss Xu Bing's companion show at the Sackler Gallery on the Mall.  9 Deaths, 2 Births will be on view through September 2 of this year.

NINE DEATHS, TWO BIRTHS: XU BING'S PHOENIX PROJECT

April 27–September 2, 2013 Sackler

…This complementary exhibition at the Sackler traces the evolution of Phoenix Project. Reimagining an ancient Chinese motif, Xu offers a view of the "new China" and the labor conditions that support its massive commercial and spatial development. While the sculpture itself remains at MASS MoCA, the Sackler exhibition features materials used to plan the work, including drawings, scale models, and reconfigured construction fragments. Also on view are related objects selected by the artist from the Freer and Sackler collections.      
_________________________________________________
look further
Xu Bing
Colossal