* Links to New York food and attractions are at the bottom of this post.  Leap ahead to access them.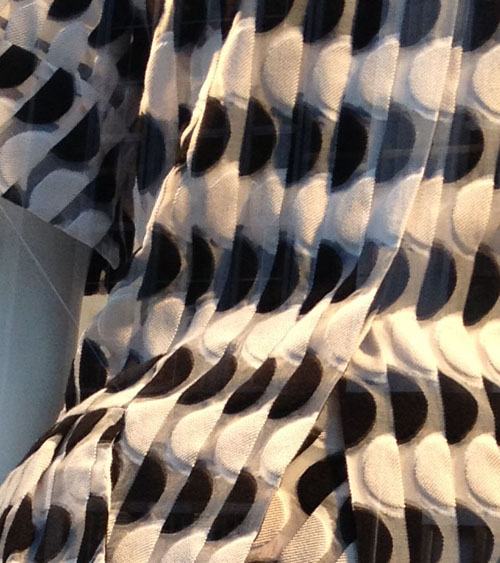 Detail of a dress in a Bergdorf Goodman window (full view below)
New York.  Just what you want on your way to Penn Station — a taxi driver who's timid and law-abiding.  But when your feet have walked literally hundreds of blocks in the past ten days you've gained a certain perspective.  Plus I'm now ensconced in the blessed ambiance of Amtrak's Quiet Car — perfect for reflecting on my recent altered state as a vacationeer.
Perhaps you remember this dress from my March 22 post.  It's the actual dress worn in a painting in the Met's show Impressionism, Fashion, and Modernity.  I remarked on the dressmaker's skill in handling the stripes of the fabric both in the skirt and the cuffs.  Hence the detail above of a polka-dotted dress now in a Bergdorf Goodman window.  And the whole dress below.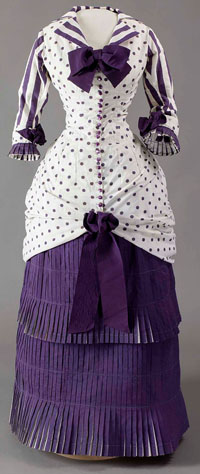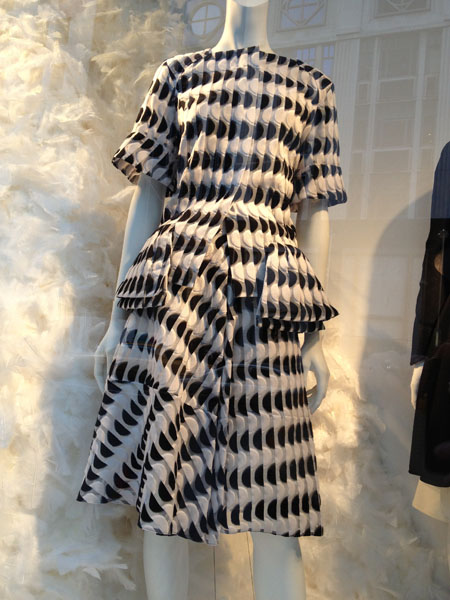 Full dress in the Bergdorf Goodman window
This dress is a stunning example of design and facture.  See how the dots and seams are handled, the slants and verticals, the added flounces, all in perfectly tamed sheer fabric, polka dots as regimented as Rockettes in a chorus line.  Wish I knew the designer's name, but I couldn't find the dress on the store's website.  Please send me a note if you know who this designer is.  Work this exquisite shouldn't go unattributed.  [The dress is from the Italian fashion house Marni.]
My view is every visit to New York deserves a stroll by Bergdorf Goodman's windows.  The wild invention of its window-dressers is justly renowned.  They were finishing a suite of windows while I was there.  An unassuming man in shirtsleeves was standing on the sidewalk telling his staff just how to position a mannequin inside the glass.  "Higher.  Facing me.  No.  Ah,"  and he disappeared.
______________________________________________
One adventure began at New York Central Art Supply at 62 1st Street.   Never knew about it — a richly patinaed store with drawers and drawers to prowl for a perfect blue in your favorite medium.  Upstairs is the paper department with a knowledgeable and friendly staff and a luxurious selection of Japanese rice papers, marbled papers, embossed, gilded, printed papers, papers galore. Missed the NY Central Art Supply's Pop-Up Shop at 130 East 12th St, #1.  Hear it's a great place but failed to listen carefully enough to directions.
A few blocks away is Casey's Rubber Stamps, a wee dark shop with an engaging Irish owner and a whole lotta rubber stamps.  I bought a curvy octopus and had fun to boot.  It's the kind of un-gentrified establishment that's a joy to find in our Gap-ified land.
When it was time for a tea break I lucked onto Frank, A Place to Eat.  Their website quotes this review:
Good luck getting into this itty-bitty teeny-weeny, no reserving East Village Italian, but "dreamy" pastas and "heavenly red sauce" justify the "cramped" digs and "obscene wait": wags advice "go with petite friends" and "bring your own table"             Frank Restaurant and Vera Bar
I'd already made dinner plans or would have stayed for a whole meal.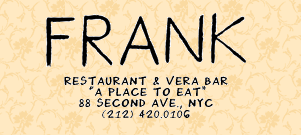 ______________________________________________
Here are a few random New York highlights before the section of links begins.  The top floor of ABC Carpet on Broadway is better than some galleries.  They feature a line of such glowingly hued carpets that they may be sprinkled with fairy dust.  They're high-priced, but eyeballing them is free.
If you're on the Upper East Side Carl Schurz Park offers a pleasant stroll beside the East River.  Sit on a bench and watch tugboats escorting ships through the channel.  Or lean on a railing above the big dog run and watch a bunch of exuberant canines having a blast.  Remember they live in apartments.  There's a benched section not officially dog territory that I call the Yippy Corner.  Here the really small pooches romp together — small dogs, big glee.
To taste a city find out what's passing through town while you're there.  The living breath of a city.  Couple of the things I caught were a performance in Grand Central Terminal and a temporary sculptural installation in Central Park.  The performance featured Alvin Ailey student dancers in soundsuit costumes by Nick Cave.  Cave's two-person costumes made shaggy horses with elegant heads.  They ambled round the space, then the dancers split apart and the raffia-draped hind persons shook and rolled and made a fine susurration as the horse heads made their own moves — then all rejoined and the horses moved back to their initial positions.  Part of the fun is that the costumes were draped over sawhorses before the performance.  The dancers then march out and don the several layers of costuming.  They merge into horses who horsily rove, then the dancers step out of costume and march out in rows.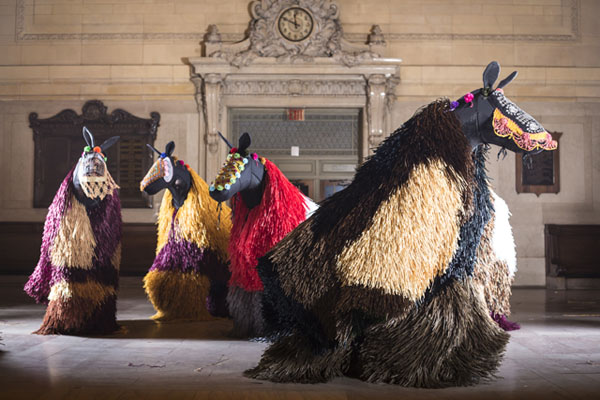 Nick Cave equestrian soundsuits, Alvin Ailey students performing, Grand Central Terminal.       via hyperallergic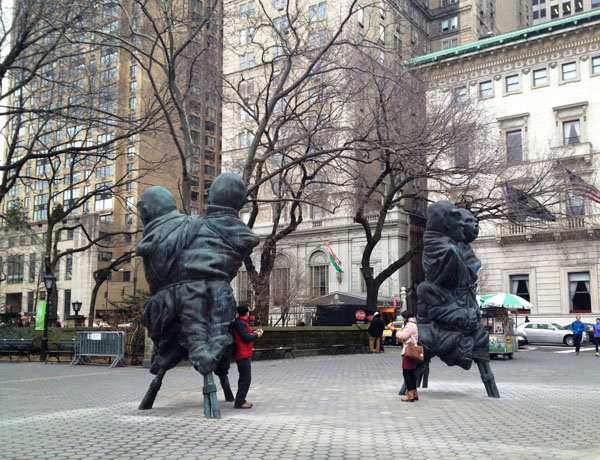 United Enemies by Thomas Schutte in Central Park, New York    via NY City Art In the Parks
The pair of bronze sculptures is deliciously placed so that it addresses the gilded rump of General William Sherman's horse across the street.  I understand that Sherman is a Union Army hero from America's Civil War, but his tactics were savage.  This is a Southern woman's account from the time:
Atlanta fell to Sherman's Army in early September 1864. He devoted the next few weeks to chasing Confederate troops through northern Georgia in a vain attempt to lure them into a decisive fight. The Confederate's evasive tactics doomed Sherman's plan to achieve victory on the battlefield so he developed an alternative strategy: destroy the South by laying waste to its economic and transportation infrastructure.

"Sherman's Sentinels"
Only the chimneys stand after
a visit by Sherman's Army
 

Sherman's "scorched earth" campaign began on November 15th when he cut the last telegraph wire that linked him to his superiors in the North. He left Atlanta in flames and pointed his army south. No word would be heard from him for the next five weeks. Unbeknownst to his enemy, Sherman's objective was the port of Savannah. His army of 65,000 cut a broad swath as it lumbered towards its destination. Plantations were burned, crops destroyed and stores of food pillaged. In the wake of his progress to the sea he left numerous "Sherman sentinels" (the chimneys of burnt out houses) and "Sherman neckties" (railroad rails that had been heated and wrapped around trees.).
The golden statue of the general and horse puzzles me.  It seems like enshrining replicas of Little Boy and Fat Man, the atom bombs that were dropped on Hiroshima and Nagasaki.  Enshrining in glittery gold.  Off key.
______________________________________________
Places to Eat, Things to Do, Oddball Shopping in New York — my past ten days
      A delightful collection of design you can own.
     I'm among those book lovers who can't go to ZNew York without passing through the Strand.  Art books — on the 2nd floor — is comprehensive and varied.  Look for the changing wares on the Monographs table.
      Windows so famed there are books about them: