Beast and Espalier Girl,  by Laura Ford     via shanathegrinch
The Welsh artist Laura Ford creates works addressed to your core.  These are not Yayoi Kusama's delirious polkadots nor cerebral stone geometries.  They're about the tender meat of your feelings and require you to access that meat, those feelings.
Headthinkers is one of my favorite Ford series.  The poignant donkeyness of the slumbrous heads, the tatty "pensioners clothes" as some British critics described them.  Because of the elusive messages in her work critics project all manner of theories on it.  I recognize this in reactions to my own artwork, often baffling me.  But if your impulse comes from the nonverbal, get ready for it.
For me Headthinkers elicit strong feelings — protectiveness, sadness — that don't resolve and leave me grasping at lonely places in the burrows of my head.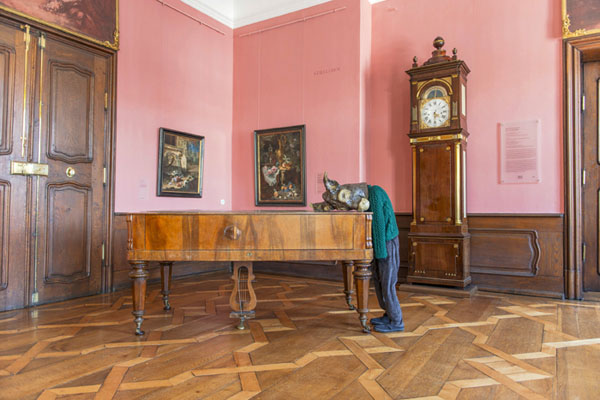 Headthinker, by Laura Ford         via lauraford.net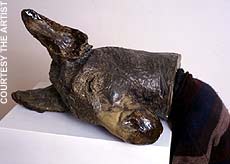 Headthinkers, by Laura Ford       via telegraph.co.uk
Ford, who lives in London, grew up in a fairground family. "My favourite sideshow was a tableau with a huge figure of Frankenstein's monster," she recalls. "He looked like a statue, but suddenly he would leap up and chase you out of the booth. You knew perfectly well that it would happen, but it was always incredibly exciting. It is that uncertainty I am aiming for in my work."           by Will Bennett, telegraph.co.uk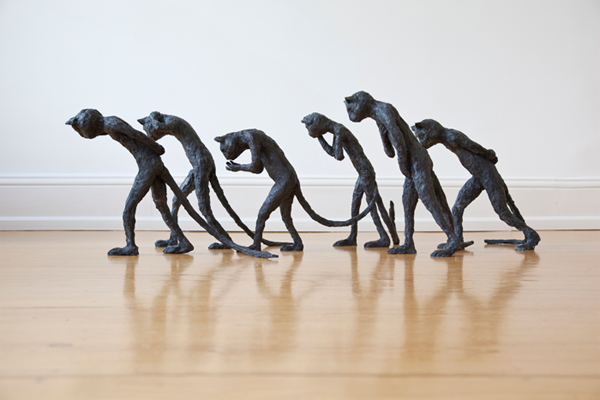 Anxious Cats, bronze maquette for large asculptures, by Laura Ford       via lauraford.net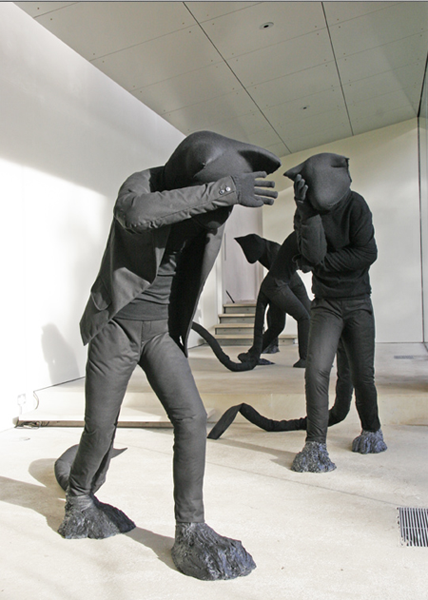 Days of Judgement by Laura Ford       via lauraford.net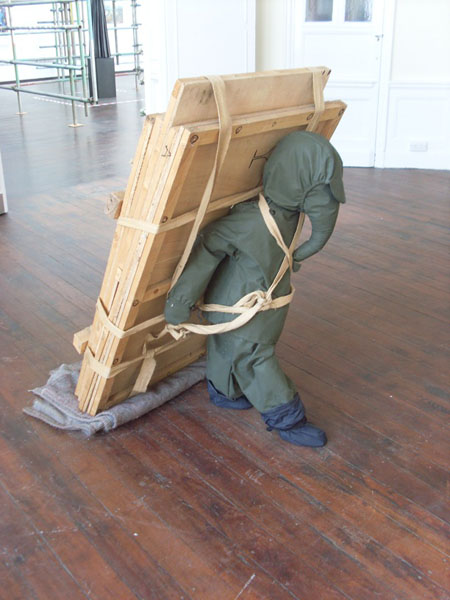 Boystory 1 by Laura Ford    via shanathegrinch
Ford deploys a sensibility to shifts in posture.  How her creatures bend and move narrates their inner lives.
_______________
Perhaps you share with me a deep affection for Kenneth Grahame's The Wind in the Willows and for Badger, Ratty, Mole and their lovable fellows.  Here's a famed Arthur Rackham depiction of the three characters themselves, in their dressing gowns, mole waering his glasses.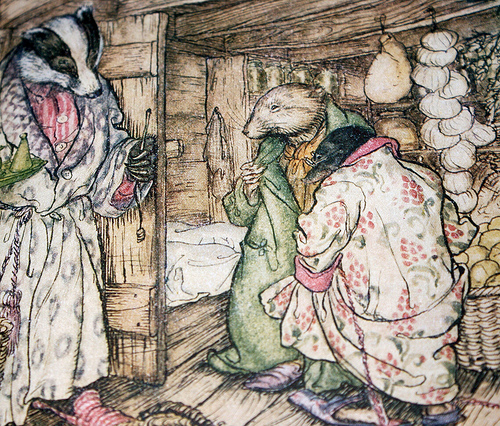 The badger's winter stores, which indeed were visible everywhere, took up half the room, by Arthur Rackham.    via rackham.artpassions.net
If you love the book — or the Disney cartoon version of 1949 — then you'll feel an extra stab on seeing Ford's Rag and Bone sculptures — they cast Grahame's beloved figures as homeless people today who scavenge for a living.  I hesitate to use the word anthropomorphic with Ford's work because of dancing M&Ms and Joe Camel, but her seriousness is unavoidable.  Likewise Grahame's and Rackham's.  Those born in the 19th century could make something real from anthropomorphics.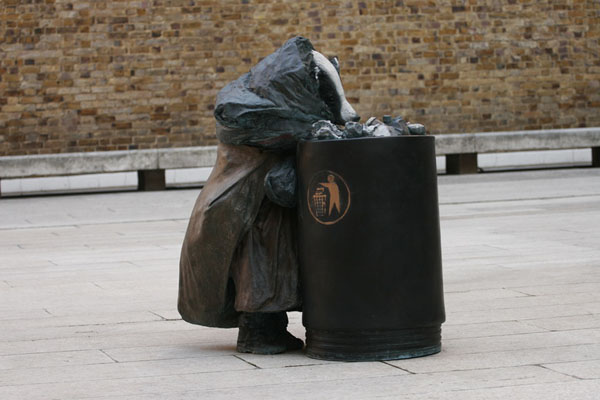 Rag and Bone by Laura Ford      via contemporaryartsociety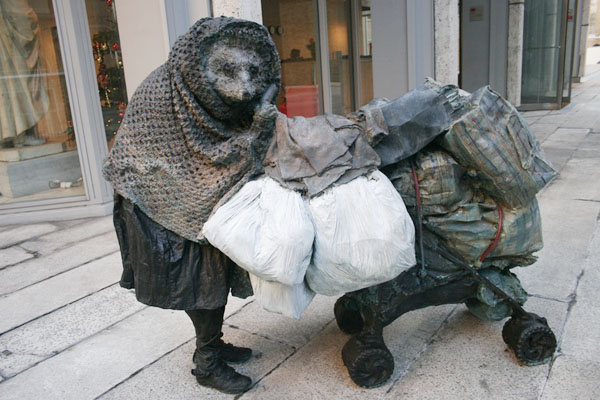 Rag and Bone by Laura Ford      via shanathegrinch
I was struck by this in the recent news:
If you were to read a news story about a battered 1-year-old child, puppy, adult dog or man in his 30s, who would you feel the most sorry for?  If you're like most people who participated in a recent study, presented in New York City at the American Sociological Association's 108th Annual Meeting, the child will win over the most empathy.  This was followed very closely by the puppy and then the full-grown dog. In last place is the 30-year-old male, to whom the participants felt the least empathy.                Empathy for Battered Animals Often Outweighs That for Human Adult Victims,  mercola.com
Respondents were most protective of those unable to defend themselves — but how relatively callous were they to the battered man?  By a mile or an inch?  Battered is battered.  Empathy is a challenge for cities full of people.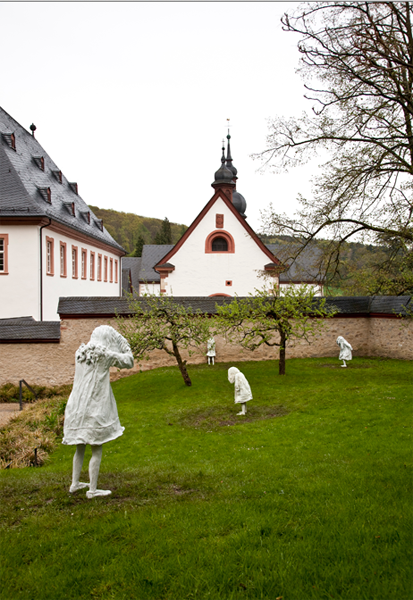 Weeping Girls by Laura Ford   via her website
A friend of mine told me a story about a fantastic tantrum his daughter had had where she was inconsolable whilst at the same time watching herself and the effect she was having in the mirror.

The site I have picked at Jupiter has a quiet melancholic atmosphere and I felt it was the perfect place to introduce some unnecessary drama in the style of the story above. What I have made for Jupiter are 5 little girls dressed up as sculptures in positions of high drama which animate the landscape they inhabit.              Laura Ford, via Jupiter Artland

_______________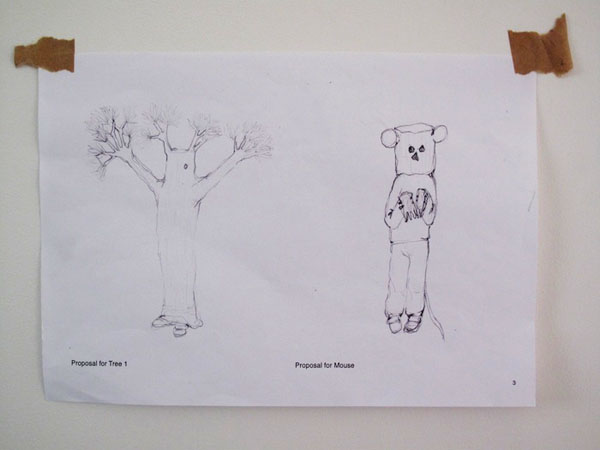 Mouse and Tree, working drawing by Laura Ford     via lauraford.net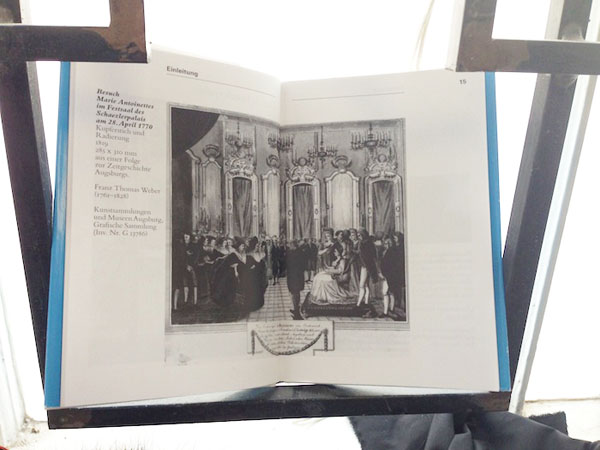 'Marie Antoinettes visits Schaezlerpalais prior to her marriage'        via lauraford.net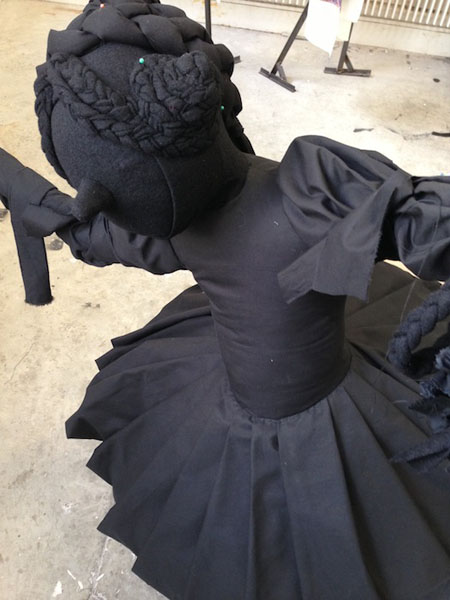 Dancing Girls in progress, by Laura Ford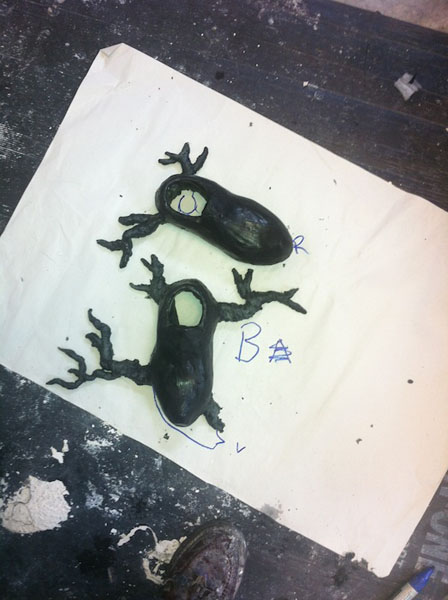 Clogs for Dancing Girls ready to be cast, by Laura Ford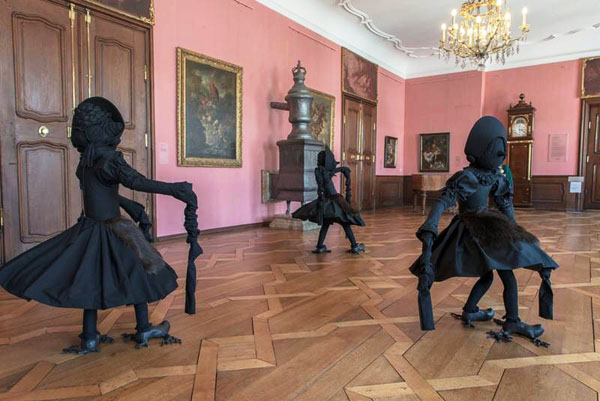 Clog Dancing Girls at Schaezlerpalais,by Laura Ford (photo credit: Felix Weinold)            via ausburg.de
_______________
When researching this I was struck by Laura Ford's relative lack of stature in the art world.  There seems to be only one piece in a museum collection, her 1998 Moose at the Tate in London.   This is 2013.  I wonder if that tricksy troll of gender bias is in play here?  Cloth is a medium labeled Girl in many minds.  It's not hard enough.  Even when her fabric figures get poured in bronze.
She deserves better.  Here is an artist led by vision, performing arduous and painstaking work, with excellent and sometimes haunting results.  Her vernacular is outside the everyday.  Cats, elephants, weeping girls.  Yet her material is the human condition.
Curators please take note.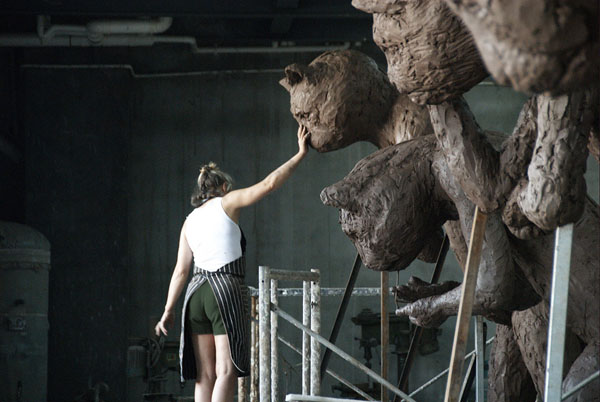 Laura Ford at work on Anxious Cats   via her website
_____________________________________________
look further
Laura Ford – varying views, not all of them mine
Arthur Rackham
Jupiter Artland
The sculpture park is outside Edinburgh.  Directions.