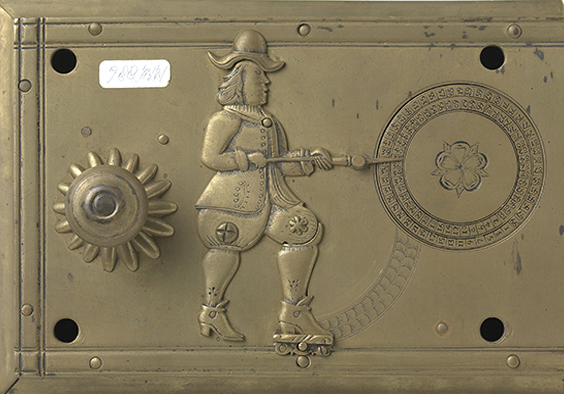 Looking at this admirable security device from the 1600s I'm questioning why a screw-head on one leg, a rosette on the other?  So I look up the reference. Nothing about the screw but way more than I'd imagined about the vaguely mail-boxy looking plaque. James Bond and Q could admire it.
How common it is for us to know too much and fail to question.  We think we know what we see — sure, sure — and gallop on to the next featureless blur.  A road direct to boredom.
Isaac Asimov  said
The most exciting phrase to hear in science, the one that heralds new discoveries, is not 'Eureka!' but 'That's funny…'  
Let your eyes ask that same question as you locomote through life.
I'm reinventing my blog Green As Sky because I love the breadcrumb trail.   Maybe it takes you inside an ingenious clockworks. Maybe it leads to a bear scooping honey from a tree.  Questioning definitely draws you further into life than a brief blank stare.  And it may take you into delightful territory you never set out to view.
Why a screw?
This new blog will attempt to be more about ideas and less about formatting.  Will be less of a link-heavy reference.   And will feature short as well as long posts.  If you care to investigate or refresh, some of my favorite earlier posts are listed below.
Catching a Wave — With a Camera 
Smithereens, part 1 — Kintsukuori & Wabi-Sabi
Smithereens, part 2 — Breakage and Contemporary Suchness