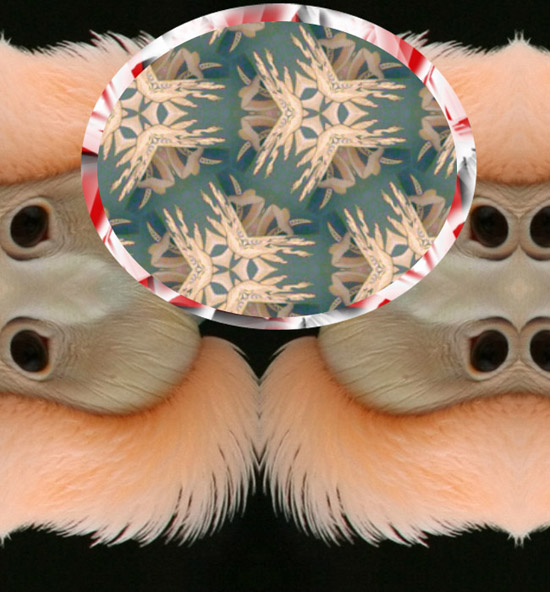 I'm a pattern-making maniac and can personally vouch for the company we look at today, Artlandia.  I've used their software since at least 2006 to make a passel of patterns.  Originally  using the plugins SymmetryShop (for Photoshop) and SymmetryWorks (for Adobe Illustrator), and most recently with their new online software SymmetryMill.   Every pattern you see in this post was made in the last few weeks in SymmetryMill.
The image above started with a pelican from CG Textures, a snapshot of a museum chair, and one of my designs (you see a peep of it in the oval frame).   Each went into SymmetryMill and came out with new personalities.  One thing you may notice is if your root image has some perspective in it you may be able to find a tiling that gives you a 3D effect — as the chair did in the main oval above.
The final composition was made in Photoshop.

As with any serious tiling program you have access to all the 17 mathematically-possible 2D symmetry groups, affectionately known as wallpaper groups.   You can design repeats with ordered Greek simplicity or Mardi Gras flamboyance, it's all there in the rules.   You start with any image, a checkerboard, Mona Lisa, Jackson Pollack tangle.  Then take a 3-, 4- or 5-sided cookie cutter piece of it.  The software knows the tiling rules — you get to play.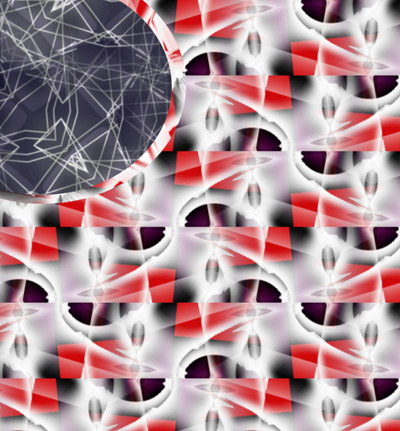 Here are some of the things I like about SymmetryMill.
Easy to use.  Push a button, select a symmetry.  The cookie cutter triangle, rectangle, etc selects an area of your image.  Drag on handles to control the scale (and sometimes shape, eg: tall rectangle, squat rectangle).
It's easy to rotate your image under the selection which gives you much more variety.
Controls for color adjustment and sharpen/blur.  Careful, they're potent!
A slider for adjusting how much the selection edges are feathered.  Zero often means awkward clunky joinery inside the pattern — but zero is what many tiling programs offer you.   This is powerful.
The window can use my 30″ display.
Downsides are:
Here's a 10.15.12 correction to this original post: SymmetryMill can be bookmarked and can also be reached via links on several of the Artlandia site's pages.  Leaves me without much to complain about.  No downside here.
If you want to use your own images to make patterns from you have to pay a subscription fee.  $35/month. $69/year, $99/2 years.  I bought in at 2 years because I'm a gonzo pattern-maker and will give this baby heavy use.
Over the years I've resigned myself to the high cost of patterning software.  The big packages, Artlandia's included, cost hundreds.  They also require a high level of functionality.  If your goal is to make repeatable patterns, then you need an engine that can isolate a rectangle that will tile.  Rectangle because that's the norm.  Photoshop can tile you out a dandy pattern in any symmetry group, but only if someone first reduces the information to a brick that will repeat vertically and horizontally.
One feature request would be to enable the keyboard arrow keys so you could move the selection across your image one pixel at a time.  This actually can make quite a difference, and past experience tells me it's a way to set up animations (move one pixel, save, move one more pixel…).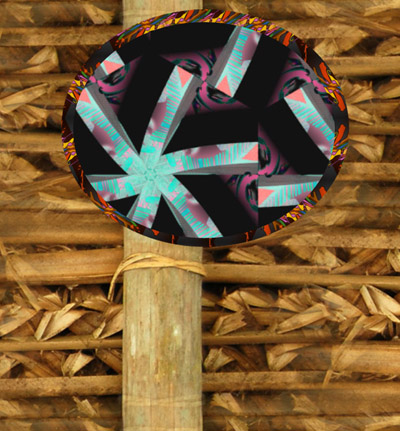 I should say that Artlandia's customer service has always been prompt and helpful.   And maybe I should also add that my only relationship to Artlandia is as a customer.
Artlandia makes high-functioning products.  You may find as I do that their chosen graphics mode adheres to the Dick–Jane-Spot-Puff school of aesthetics, but don't be fooled.  SymmetryMill is serious software — with it you can create fluently and with delight.
look further:
Artlandia