.
The Heady Brio of Heather Ujiie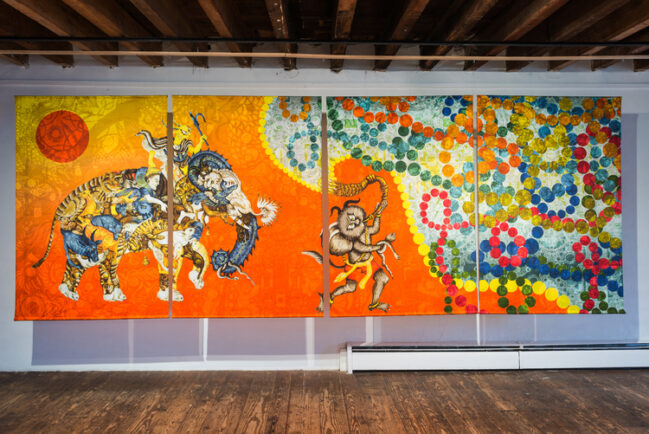 A digital print on fabric,The Universe. The scale, the depth of color, the flourishes and design surprises. That elephant is no elephant, it's composed of many beasts and figures. I love how the savage lion's tail puffs out from the trunk about where tusks might show.
This is the rambunctious work of Heather Ujiie which delights with its shear galore-ness. Color, horror, erotica, humor — bursting with florals and animalia. This woman has never heard of staid and uses her unstaid for energized compositions that sprawl.
I enjoy the sense that she loves making images. You can't imagine a dabbler attempting work so challenging. Or a nail-biter taking on anything this strenuous.
If you pay attention to details you're rewarded for it.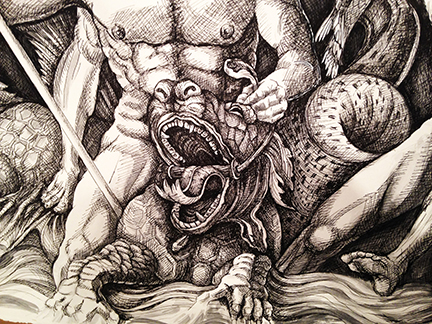 I've been a digital artist for decades; I work with free digital images from wildly differing sources. Never in my craziest dreams did I consider art of this caliber, without a whiff of digital about it, being printed on fabric of significant size. Heather Ujiie wows and delights me.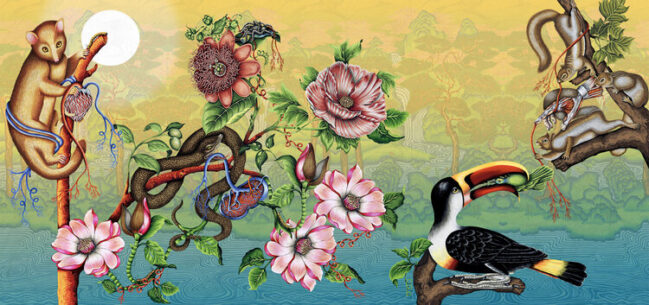 _________________
See also Eric N, Mack. "Painter" for work with fabric
See Kehinde Wiley Paints Black for another artist's take on florals