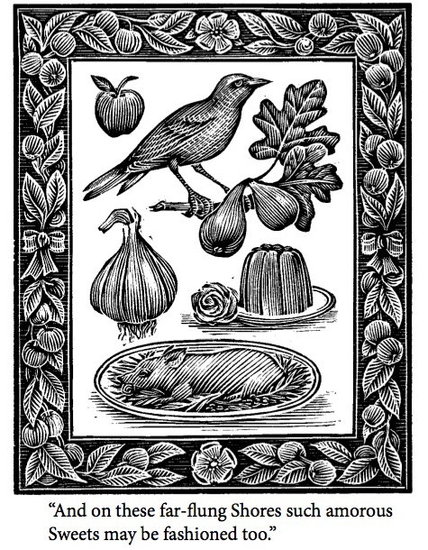 Book illustration by Andrew Davidson            via food orleans
Should you choose to partake of Lawrence Norfolk's new novel  John Saturnall's Feast, here are a few condiments that may complement the savor.
Bounty.  Look to the Flemish painter Frans Snyders for a voluptuous sense of the makings of a royal feast in the 1600s.  Table-loads of game, fish and fruits.  We live in a supermarket age, vast regimented rows of food in cans. under plastic, boxed.  No aromas, no stenches.  Imagine what it was like in a time when a region's food poured daily into a lord's kitchens.  The sprawl it made, the sensations for the nose, the display of Earth's plentitude.
Four of Snyders' paintings evoke it for you.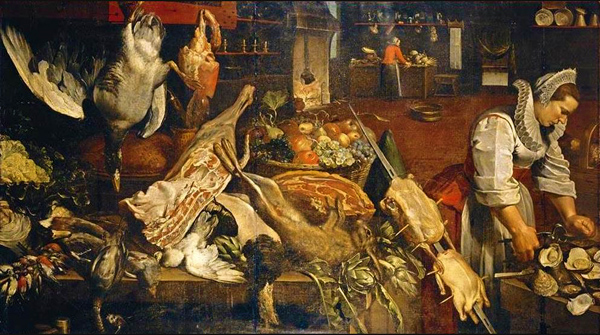 Kitchen Stillife by Frans Snyders      via WikiCommons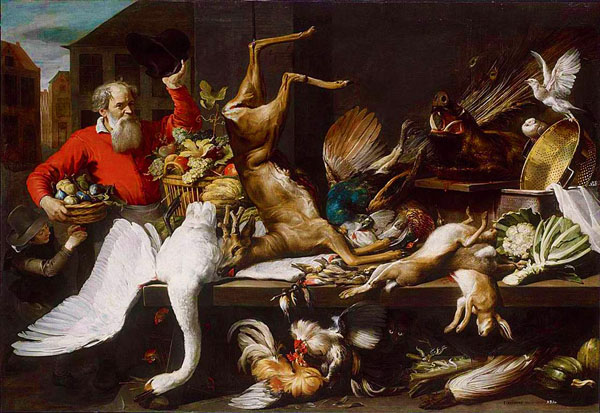 Stillife with Pickpocket by Frans Snyders    via The Chawed Rosin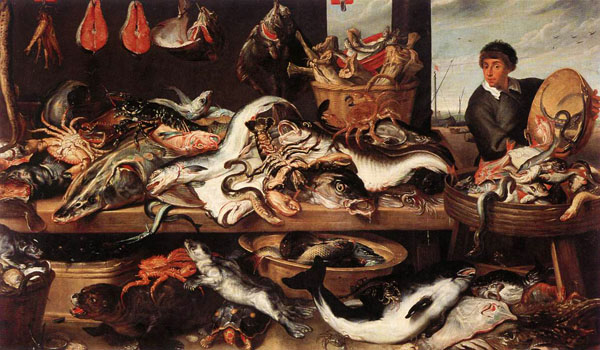 Fishmonger's by Frans Snyders    via WikiCommons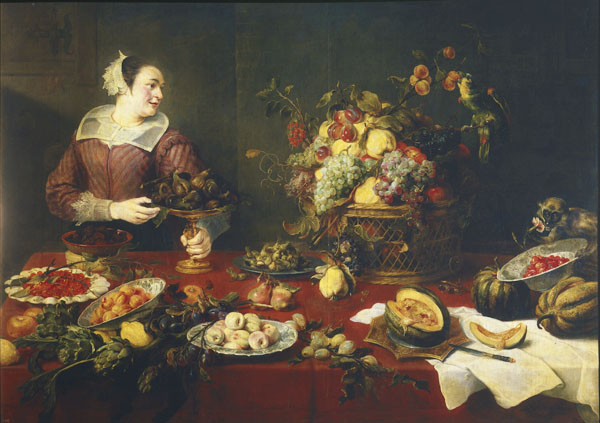 La Frutera by Frans Snyders     via WikiCommons
 Snyders painted in the same century that Norfolk's book takes place across the Channel in England.
Frans Snyders …became part of a circle that ultimately included Jacob Jordaens, Jan Brueghel the Elder, and Peter Paul Rubens, helping to establish Antwerp as an artistic center. Prized as the finest animal painter of his day, Snyders had a gift for large, well-balanced compositions. His still lifes usually contain a hint of action, such as a sniffing dog, but above all, they allowed Snyders to display his skill at organizing a rich variety of textures, colors, and shapes. In addition to his own energetic hunting scenes and complex still lifes, Snyders was often employed by his close friend Rubens on the still life and animal sections of Rubens's paintings. Rubens admired Snyders, but when a patron once confused their work, Rubens reacted sharply: no one could depict dead animals better than Snyders, but for live animals, Rubens was himself the better painter.         Frans Snyders (Getty Museum)
________________________________________________
Feast is also about cookery in a day before thermometers and standardized measurements.  Hear the savvy and attunedness  in this recipe: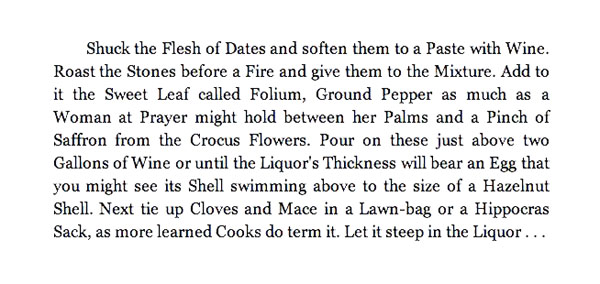 From John Saturnall's Feast, page 2
 For more specifics about medieval cookery and for further resources see note about To the King's Taste below.
______________________________________________
The book is a paean to all pleasures of the flesh.  Love and lust are given us without sniggers — no hormonal teenager will bend  page corners.   But sexuality is celebrated as Rodin did in some of his fleshly sculptures.  I choose these two as apt illustrations for the delightful sexuality in this book.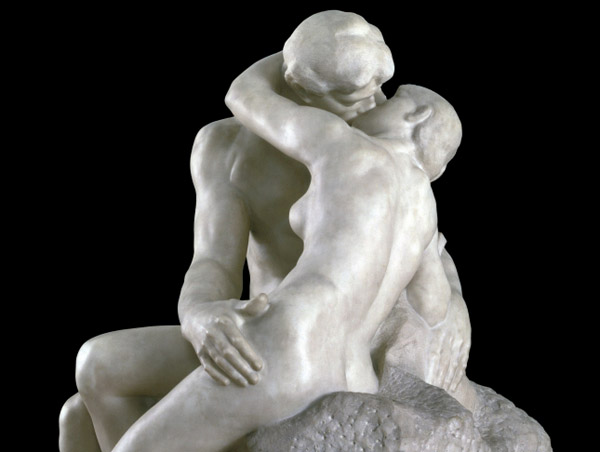 The Kiss by Auguste Rodin       via Turner Contemporary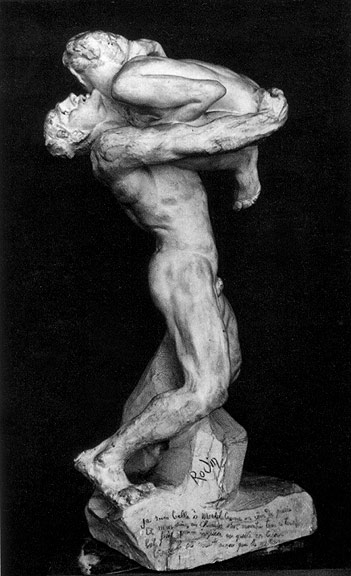 I Am Beautiful by Auguste Rodin       via sandrashaw.com
 ______________________________________________
I've divided my look at John Saturnall's Feast into two parts.  I don't have his aplomb in presenting the ugly with the yummy.
To read Lawrence Norfolk is to read a feast of words.  His historical research is deployed across the pages with gusto, he's got  a taste for the beauties of English.  He imagines in glorious details and has the writerly skill to draw you into his tale.  His four novels are Lempriere's Dictionary, The Pope's Rhinoceros and In the Shape of the Boar.   I've started rereading Lempriere just for the fun of it.
 ______________________________________________
look further:
Frans Snyders (1579 – 1657)
To the King's Taste:  Richard II's Book of Feasts and Recipes Adapted for Modern Cooking, by Lorna J. Sass.  copyright 1975, The Metropolitan Museum of Art.
•  Currently available on Amazon for $8.96 used, and new from $78.86 to $2,245.  Or collectible for $100.  Hmmmmm.
•  My To the King's Taste  originally came with a box of typical medieval spices.
•  Amazon also has To the Queen's Taste, Elizabethan Feasts and Recipes Adapted for Modern Cooking.  Also by Sass.