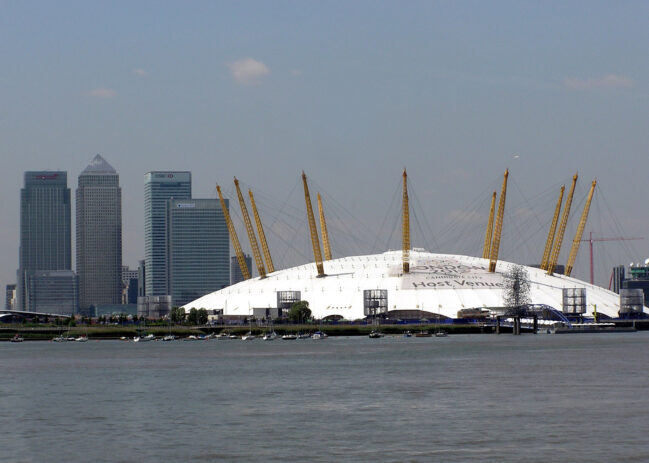 Eric N. Mack, "Painter"
Tensile is a physics term you can understand when viewing many of Eric N. Mack's artworks. If only to appreciate one of fabric's finest features: it's drape.
A tensile structure is a construction of elements carrying only tension and no compression or bending. …. Tensile structures are the most common type of thin-shell structures. Wikipedia: tensile structure.
(This lay person's definition is more comprehensible than Wikipedia's plain Tensile entry.)
Mack says he's a painter but few painters play with the slinkiness of woven fibers. Or 3D for that matter — yet Mack is clearly visualizng the effect of viewpoint on your appreciation of his artwork. Some works seem more baldly conceived as squarish rooms with sides, exteriors, interiors. Others play with the relative transparancy of joined panels as they color-mix with fabric more and less visible behind.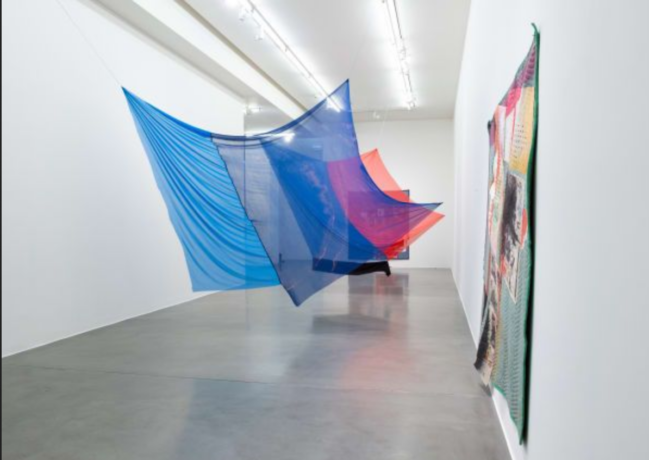 One thing I viscerally love in Mack's work is his sensitivity to fabric's innate variables. What's called the hand, or the way fabric crumples crisply or folds softly in your tender grip. That grip is assessing tensility. This is a quality that few artists choose to deal with — vary, use to their advantage. Mack does. You see it plainly here. What's the deforming function of that black strip at the bottom?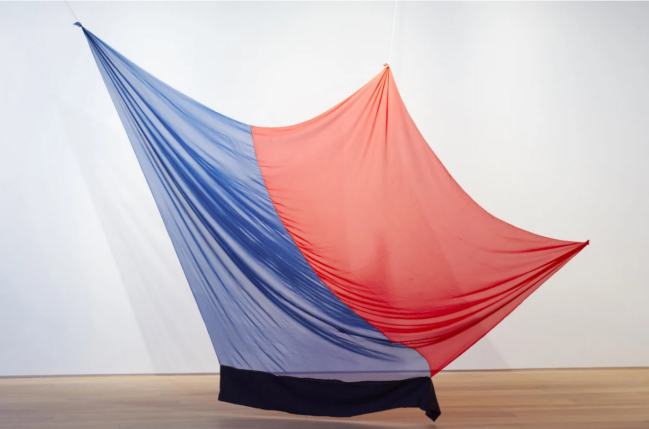 Eric Mack's father owned a clothing store, hence his intimacy with fabric. He went to a prestigious art high school, on to Yale, and has had residencies with The Studio Museum in Harlem Artist-in-Residency Program and later a Rauschenberg Residency. If you see simplicity in his art, think again.
Were this a traditional paint-on-stretched-canvas it's a composition I'd be drawn to in a fingersnap. But for the artist that's not enough. You can't ignore the slants and torques, the use of unfigured fabric for white space. You see it's anchored twice to the rod and twice higher up on the wall. Every installation will be adjusted to its space, will alter how it hangs. You have to wonder if situations would force a mix of spaces that Mack wouldn't like adapting to.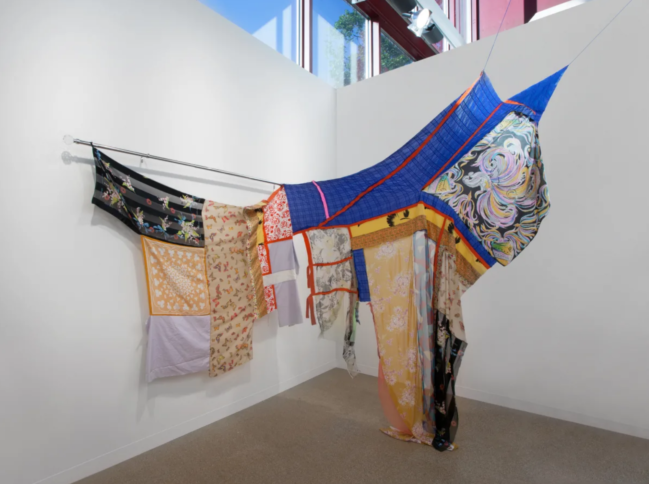 As he's gained reputation his palette has widened. A fabulous scarf, a pristine seemingly unused moving blanket. And his methods of display have widened out from clotheslines and curtainrods to more delicate or fascinating mounts. One looks like a professional stand for a microphone — draped with sheer fabrics in tones that women's nylons might be woven from. Titled A Gift.
A Gift dates from 2015, the same year of a drawn/painted sketch, on pegboard, Black Cornucopia. It's claustrophobically cramped, vague triangles of color in a certain array. You would bet good money that it wasn't the same artist.
That's worth pondering when you consider what an artist may deem to be an adequate sketch for themself.
When Mack collages, he backs paper on a fabric hanging, not on a hard surface. They must be devilish to move and hang without damage to the fragile paper parts. Some are overtly political. Instead of abstraction you get frontal content. Anger, race, nameable pictures. In other collages he seems to be going for raw emotion, painted paper with gouges back down to the paper pulp, savage abstractions combined with typescript pages. This man's work reaches here, reaches behind your back, reaches to the ground beneath his feet. He's still finding ways to say.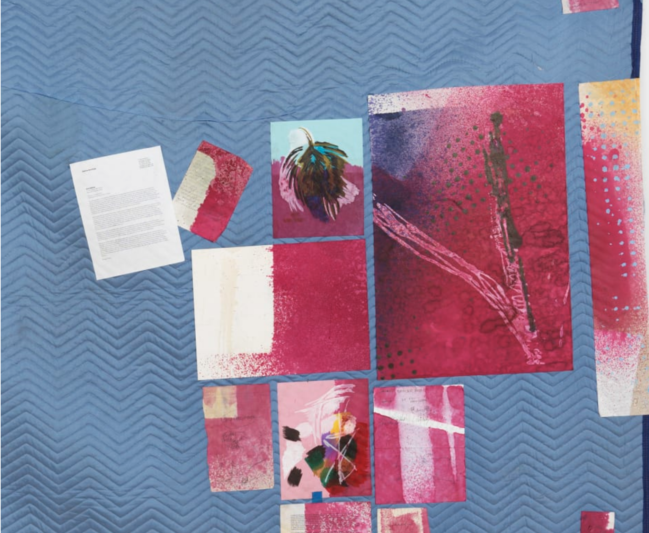 The most recent work I've seen eschews fabric. Dyes are directly applied to paper. The colors speckle like a birds egg, applied lightly– maybe in a spray, even a mist. The pigment has a sense of filmyness, nothing suggestive of a brushstroke. You see that resists have masked off areas while in other parts the color layers blend. Reminiscent of his color effects in hanging layered cloth.
I recommend Nick N. Mack's art for its energy, experiments and gusto. Dive in.
_____________
Simon Lee Gallery has a generous page for Mack's work.
Eric N.Mack, Black Cornucopia
Eric N. Mack in Conversation with Tim Marlow
Sloan Nota, Collected Works, "Sketchy," Rijksmuseum