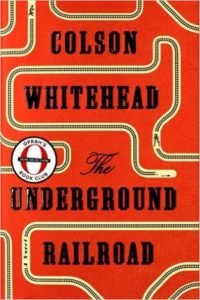 I need to write this. Now.
I'd heard of a prize-winning novel by a black man writing of black experience. A quick search turned up The Sellout by Paul Beatty.  The Man-Booker prize.  OK!
So I read it and loved it — at first.  The urgency of the prose, a burning wick of intensity. If you've read Robert Coover's The Public Burning you'll recognize that unsuppressable push of words.
But then The Sellout started maundering. The snappy jokes — not the characters, not the plot — became its reason. By the end I was annoyed. Annoyed.
So I Googled the same requirements.  This time the prize turns out to be the National Book Award.  Colson Whitehead, The Underground Railroad. I'm blown away by the novel's power. Its vision. Its truths.
Its worthwhileness.
If you ask me to compare the two books I'll tell you it's like comparing Moby Dick with Mad Magazine.
If you feel strong, read this book.  Perhaps use the January 20 Inauguration time-slot to remind you of why you're not watching that ceremony.