Storm waves.  Think of the power — to pulverize, shove, snap to pieces.  There are photographers who face these seas.  The images they return with are both documents and art.  The three photographers below are well worth attention.
Alessandro Puccinnelli captures the power of the waves.  His images grab their explosiveness.  Look at his tones.  His cropping — which can change from one shot to another.  His visceral focus and the immediacy it brings.  He says, "To some extent the sea is my guide through life; I think of the sea as an example and a source of knowledge."  
I remember when I first saw his Intersections project (which these two photos are from).  My inner jaw dropped and my heart yelped yes.  I grew up near the sea, I understand how nourishing the sight of it can be.  Interesting that in his commercial work Puccinnelli chose to use a very "loose and free" approach.  How unlike the intensity of his sea.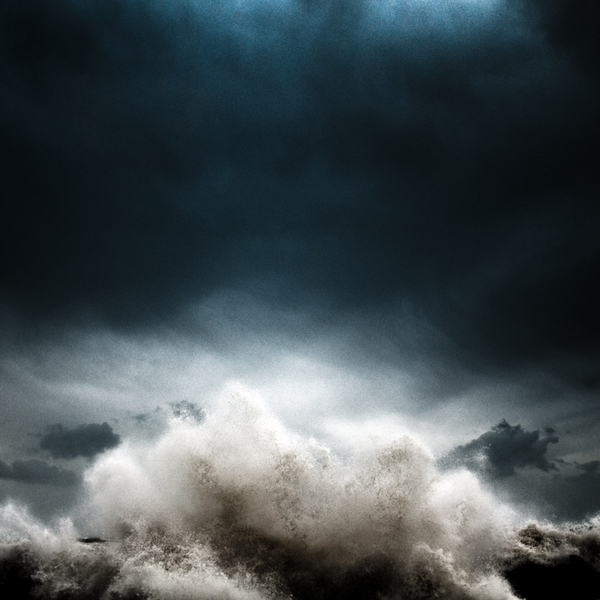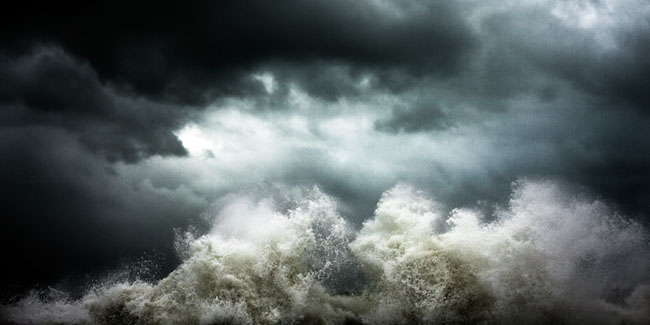 two above photographs from Alessandro Puccinnelli's Intersections project, via his website
_______________________________________________________
Clifford Ross
gets into hurricanes.  He wades into the surf as it roils toward him,
tethered by a rope
to an assistant on the beach.  Think of that as these combers come at you.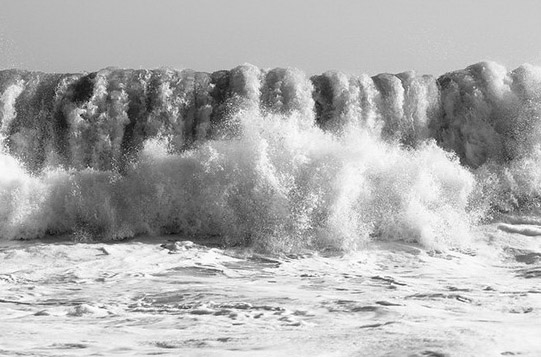 HURRICANE L, 2009 by Clifford Ross   via his website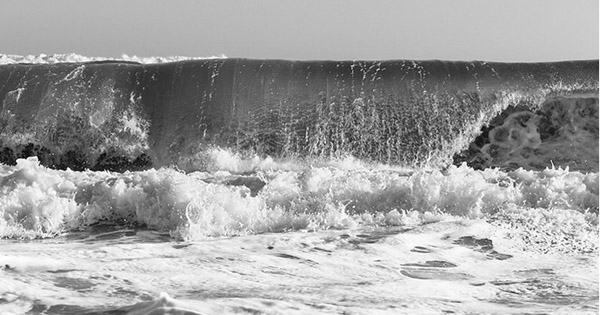 HURRICANE LV, 2009  by Clifford Ross      via his website
Ross is an exemplar of contemporary art-meets-technology.  He created and patented an unprecedented hi-res camera — because he saw a mountain to photograph and existing technology couldn't give him the detail he imagined for it.  He inspired a cyclorama project and made a video animation Harmonium Mountain with music by Philip Glass.  A fascinating human, I suggest you explore some of the extra materials listed at the bottom here.
_______________________________________________________
Think of gluing all the continents together, Africa, Eurasia, the Americas, the poles.   That's a boggling lot of land.    You could step off the curb today and begin to walk, eating, sleeping, aging as you go, and never walk the girth of vast Pangaea.  Generations would have to take up your task.
Yet dry land is but a pittance of Earth's surface.  Salt water covers some 70%.  When ocean waters get riled they've got a lot of weight to heave around.
Below are photos of a storm in the Black Sea.  Lives were lost, five ships sank, an oil tanker broke in half, 1000 tons of oil were spilt in the churning sea.   The photographer of these disturbing shots isn't credited.  I thank whoever held the camera for their practiced skills when this hellish storm slammed into view.  These aren't snapshots.  But all I know is that Russian bloggers processed the film and posted these HDR visions soon after the storm.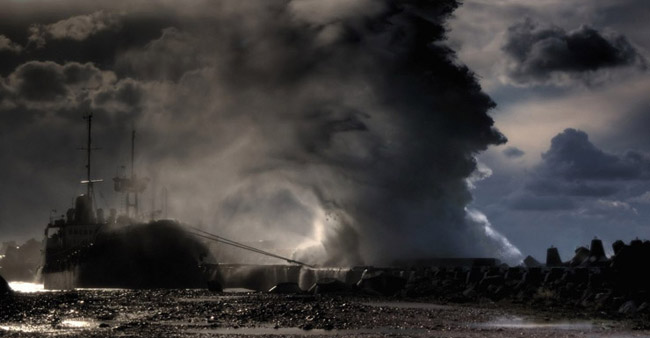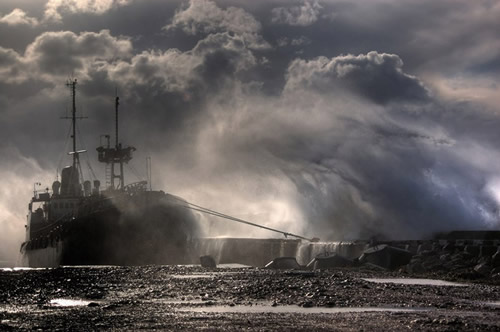 two HDR photographs processed by anonymous Russian bloggers                 via the EnglishRussia site, via gCaptain
The power of the sea indeed.  And the power of humans to record — which is the next topic of this blog.
  _______________________________________________________
go further:
Alessandro Puccinnelli –
Clifford Ross –
•  documentary The Art of Innovation, about creating his remarkable camera and a bit about his hurricane technique.
•  Ross's digital video fantasy Harmonium Mountain with music by Philip Glass.  I saw it last year in New York — it's beautiful and good fun.
•  Ross sells large-scale Archival Pigment Prints from his website – a raging hurricane for your wall.