They're poles apart yet somehow kindred.  Eyvind Earle and Charles Burchfield both created landscapes that could speak philosophy.  Earle's serigraphs speak of the still-point, the intoned om.  Burchfield's vibratory watercolors crave to paint the pulse of life — not the particulars, not the trees, the sunflowers, but the very life inside them.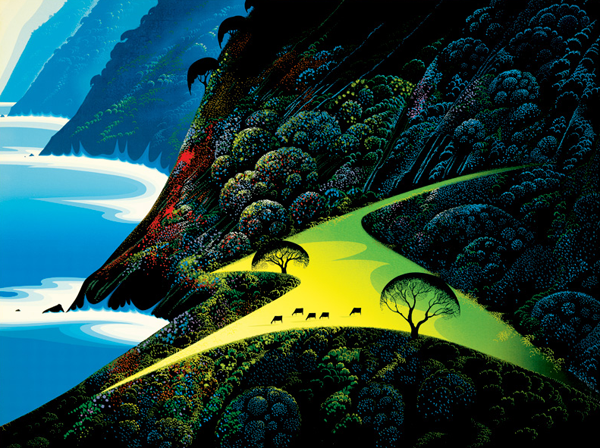 Seaside Pasture by Eyvind Earle (copyright Eyvind Earle Publishing LLC)         via the Eyvind Earle website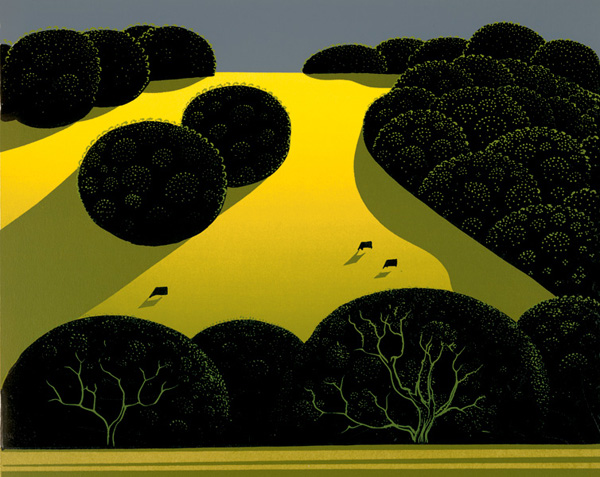 Alamo Pintado by Eyvind Earle (copyright Eyvind Earle Publishing LLC)    via the Eyvind Earle website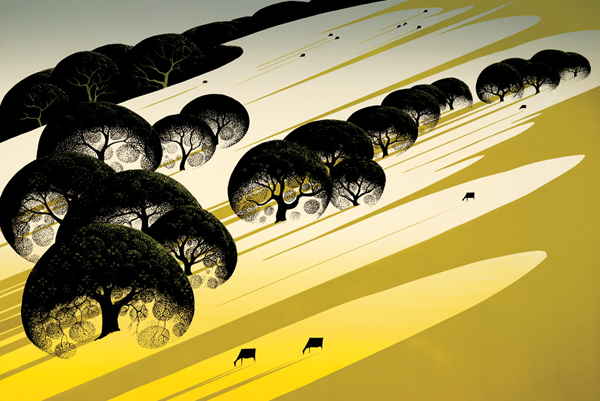 Cattle Country by Eyvind Earle (copyright Eyvind Earle Publishing LLC)         via the Eyvind Earle website
Let's start with the serigraphs (a term to distinguish fine art use of the technology that also prints T-shirts, silkscreen).  The reason to start here is that this work swamps me with homesickness for my native California.  Art as can-opener for the soul.  Trust Earle on how the land slopes and how elongated shadows stretch down the hills.  If you travel between San Francisco and LA (50? 100? times for me) you know the nearly treeless hills that shape the light.   And the mountainous northern coastline, cove after cove of rocks and precipitous drops.
In Earle's autobiographical video he says "art is an attempt… to pick one detail out of the infinitude of infinities and make it clear…"
He uses the video to make a point that makes the point that…  You know how a fractal scaled up or down reshapes itself as itself?
I hear no sound in Earle's works, we watch from a mountaintop.  Fog hangs in the lowlands, hillside sun bakes in color like enamels in a kiln.  In Alamo Pintado we have the crest-line leaves back-lit, the dark masses of late day, the sun ladled on in a perfect rendering of its density.  Serigraph can render timelessness in slow color sheets.
Eyvind Earle worked in many mediums.  He was a color stylist at Disney, gave Snow White its broody forest.  We addressed the serigraphs here.  Go to his website to view the variety.
 __________________________________________________________________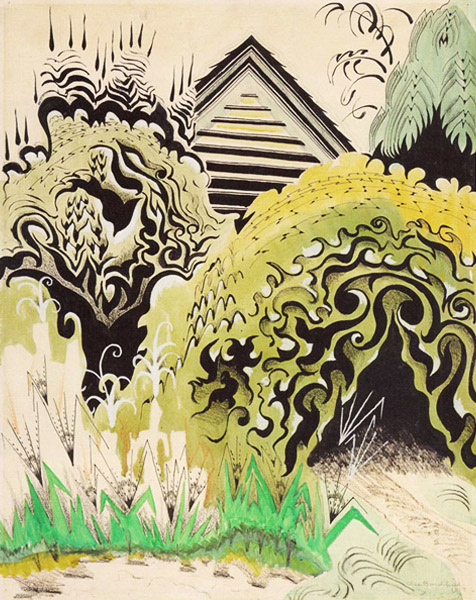 The Insect Chorus by Charles Burchfield        via imprint
Now, the still-point vs the jugular pulse.
Compare Charles Burchfield's rendering of foliage here with Earle's trees just above. Both works are highly stylized takes on vegetal realities. Vegetal, yet we see in Earle the wisdom of a meditative mudra-handed pose — and in Burchfield the abandoned release of a Dionysian dance.  Classic poles of human nature. Messages told in plants.
I see in both artists aliveness to plants, and to air, atmosphere.  Both dismiss animal life with a squib.  Both are disinclined to portraits, vases of tulips, realisms.
A note on the Burchfield images here.  I couldn't find any that were as big or glorious as the Earles and they suffer by looking punier.  They're not puny.  Let your imagination be your zoom.
Fireflies and Lightning by Charles Burchfield             via Traditional Fine Arts Organization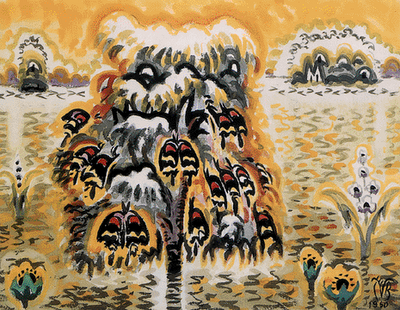 Golden Dream by Charles Burchfield             via Isola di Rifiuti
Burchfield painted his ecstatic watercolors as a young man, veered with the Depression into grim industrial and housing images, then returned at his 50th birthday midlife crisis to painting nature as it throbbed.  Remember Equus?
"Look…
"life is only comprehensible through a thousand…
"local gods.
"Not just the old, dead gods,
with names like Zeus… "                      

                    via Drew's Script-O-Rama
In Burchfield's voluminous journals he wrote of the tinny pin-point cleeking of crickets, of air that became musical with the quaverings of bluebirds.  He sought to paint sounds along with the hollyhocks.  And more, his tumultuous feelings were a vital part of his subject matter.  Hard to pry apart what he sensed inside vs out.  But what he distilled into his work was the clanging fandango of life-force, the leaf pores breathing alongside the crickets.  His urgent need to render that in paint.
I  would love to see Earle and Burchfield in one show where they could each irrefutably make the opposite point.  I  believe them.
___________________________________________________________
go further:
Eyvind Earle
Charles Burchfield