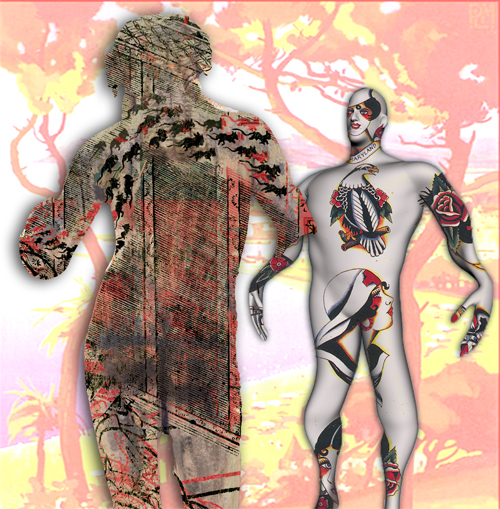 Path, Sloan Nota  2011
This blog will look at a lot of things Geek — software, sources, maestros.  Take the image above.  Right off the bat I can tell you about the sources I most use.
CG Textures is a deep source of  photographs.  Places and things mostly.  You want brick walls?  Would you like that medieval, modern, mossy perhaps?  How about tree limbs or water stains on alpha backgrounds?  Fire and fireworks, water, ice and snow.  Islands and doors, graffiti and geraniums.  You sign up and can download 15 MB daily or pay for more.  Copyright free, yours to use.  Finding CG changed how I make art.
Dover Publications will send you free samples weekly.  Sign up on their home page.  I've used them for years and remain smitten.  Old children's illustrations — Rackham and Kate Greenaway, Chinese motifs as vector files, travel stickers from the Iazz Age, dinosaurs, fonts, old photos, Easter bunnies, Celtic knots.  Again copyright free.  I buy their books+CDs when I have a specific project in mind.   My samurai are based on silhouettes from Japanese paintings.
Wikimedia Commons hosts images and gives the copyright status for each.  I search for PD (public domain) images no matter what topic.  Another strategy is to look for images by employees of the United States while on their jobs.  NOAA (National Oceanic and Atmospheric Administration), USDA (US Department of Agriculture), NASA (National Aeronautics and Space Administration) are all good.  Just check that your particular image is indeed copyright free (on the same page as the image).
Personally I'm not comfortable using copyrighted images and ditto those that I'm free to use if I attribute the owner.  I'm not gonna remember.
So here's how to decode the image at top.  The foreground figure is from CG Textures, skinned with (I think) two Japanese images from WikiCommons.  The figure in back was made on my iPad with AutoDesk's 123 Sculpt.  A divine app I'll revisit later.  What skins him is a page of tattoos from Dover Publications.  The background's from a Dover old-time travel sticker.
Most everyone's a geek nowadays, some flavor or other.  If you're one who uses source images I hope this post gives you a boost.