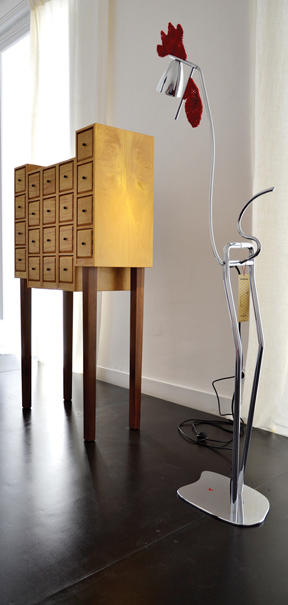 both chest and lamp by Paulo Gouveia
Useful objects inspired by animals?  Too often cutsie-pie affronts to adult taste.  But not the furniture we'll look at today.
Above is a rooster lamp that swaggers — a wonderful creation by the Portuguese furniture designer Paulo Gouveia.  I asked him why he chose a rooster.  His idea was to use a Portuguese cultural symbol and "give it a new posture and function."  There are plenty of tourist trade renditions of the Portugallus, a folksy rambunctious-looking cock. Gouveia has transformed it with wit and vision.  This is a lamp that may wisecrack if your guests get boring.
Gouveia used metal to "transmit elegance and visual lightness."  With metal he's made a gestural study of a rooster alive and strutting.  A sculptor's job.  I hope he turns his fine eye for animal expressiveness to more forms.

Claude & Francois-Xavier Lalanne created a menagerie of gorgeous animal-themed furniture pieces.  Yves St. Laurent was among their collectors.  They made several versions of the massive rhinoceros desk.  Here also are their ibis lamps standing serenely.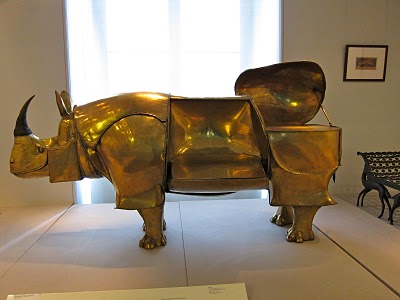 desk by Claude & Francois-Xavier Lalanne, photo via Aestheticus Rex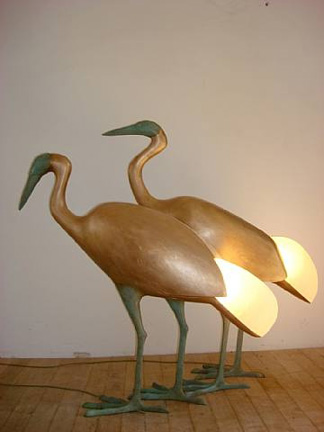 Lalanne ibis lamps via LiveJournal

Maximo Riera is creating a series of chairs with what he hopes are anatomically perfect renditions of animals.  Scott Younker says the chairs are "created using a CNC milling machine … computer controlled mills that can move the spindle vertically along the Z-axis."  They produce a "series of forms cut from foam blocks and placed on an internal steel form. The final chair is envoloped in fine leather, allowing for detail refinement."  I'm not clear why these are seating but they are magnificent.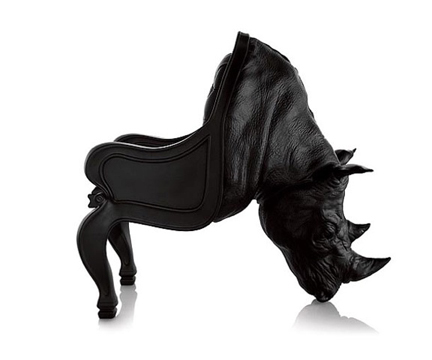 rhinoceros chair by  by Maximo Riera via de-furniture.com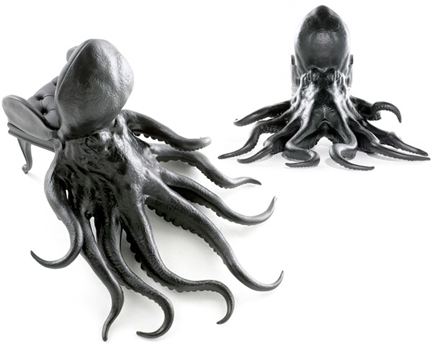 octopus chair by  by Maximo Riera via NOTCOT

And finally a small herd of seats by Fredrik Farg.  Farg says that the pieces are wrapped in textile and leather,  had ropes tied around them then baked. When the rope is cut it leaves "a pattern without seams, as brutal as it is sophisticated and refined."  I find both whimsy and biological truth here.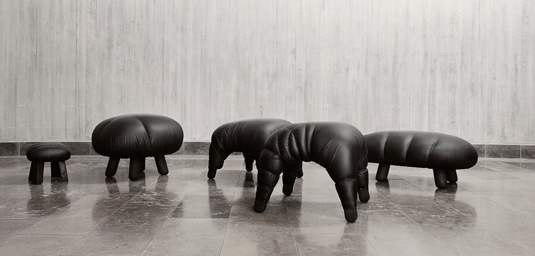 Succession seating by Fredrik Farg (two views)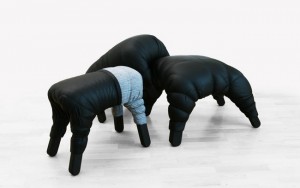 _______________________________________________________________
Correction: This blog first posted with Paolo Gouveia's name misspelled as Gouvela.  The text above has now been corrected, with many apologies to Paolo.