SIGGRAPH 2012.  Yesterday was the last day — in it I…
•  Picked up a great MakerBot Replicator 3D print made from a 3D scan of my face.   Flamingo pink plastic.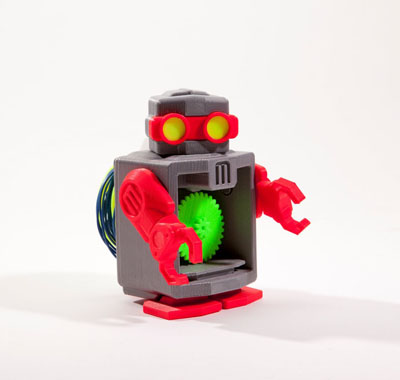 sample 3D print from the MakerBot site
•  Took the 3D print and had a high quality scan made of it.  Third generation image.   (NextEngine)  Once I'm home and on my big computer I'll post the series and at least a fourth generation image.
•  Tried to pick up a 3D print of the same file via another method and material but their equipment crashed.
•  Test-drove the Leonar3do system for 3D manipulation and VR (virtual reality).   They even had a Mac version, bless them.  3D glases, software, a mouse they call a bird — with reason.   A seductive experience.  Glasses on, you plunge the Bird into a plain 3D sphere and either punch a hole or draw material out into arms of all widths.  Surely it does more but that was my intro.  Tremendous to play with — we'll all take the technology for granted in a few years.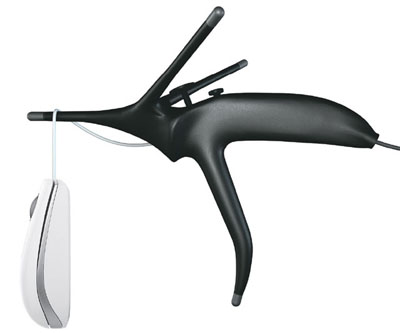 Leonar3do's 3D controller, the Bird
         Leonar3do, a Hungarian company, offered me a nice deal but sober reflection insisted that my work will progress faster with another gizmo — that high-res scanner.
        The scanner people see their scanner as naturally paired with some form of 3D printer but I see it as a way to pull exciting new content into my art.  OBJ files are juicy — 3D scans of complex objects.  Photographs of solids.
SIGGRAPH has given me a new appreciation of the word emerging.  It's here, in fast-forward development but still too rough for the consumer market.   Only jump in if you're adventuresome.
_____________________________________________
Random LA notes:
—  Passed while driving to a new hotel, Cinema Makeup School.  Ah LA, I'm home at last.
—  Good food encountered here:
Soleto    Very good salad in an enclosed but open-air part of the restaurant.  Architectural embellishments are great fun.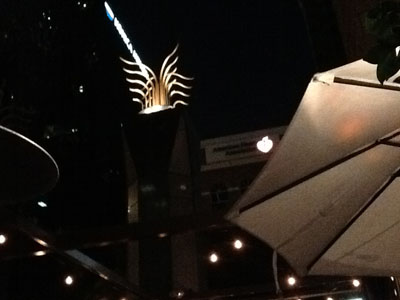 Fleming's    High priced but exceptionally good beef and accouterments.
The Roof at The Hotel Wilshire.   I can vouch for their subtle and lovely Watermelon Gazpacho.
— •  Still learning as a blogger — and neophyte conventioneer — how to shrink-wrap my experience when encountering masses of material.  Usually my brain's inside my computer, making something in solitude, on my own time.  At SIGGRAPH events were scheduled, maybe 5 or 6 at a time.  Seven? More?  Getting scanned and printed goes on top of that.
And the blogging, there's just so much to say and share.  And to do some more.  Now I'm within walking distance of LACMA, the Los Angeles County Museum of Art….
—  Personal insight .  At SIGGRAPH I felt absolutely at home, comfortable, well-fitted to the venue.  Now I'm where the stereotypical Angelinos hang out.  Blond, tan, perfectly put together, obligatory cool shades.  I broke my shades on the first day.  So me.  I always feel the awkward orangutan when surrounded by the beautiful.  For this I'm often grateful that I moved east and acquired some East Coast Edge.  But, flip side, I saw the sun going down in the west and knew in my bones that it was setting over the ocean — it felt so right, so safe and comforting.  Roots.