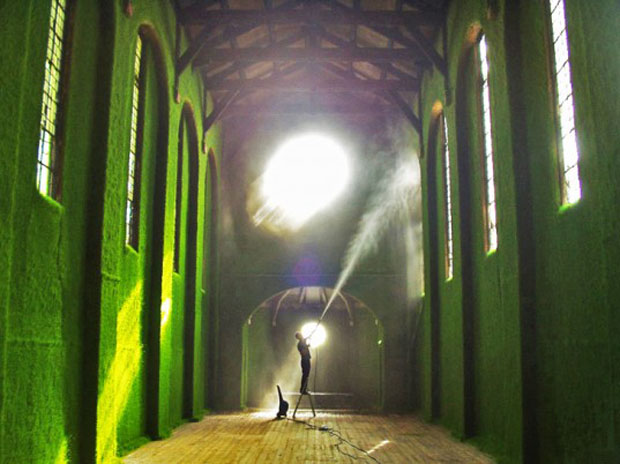 Dilston Grove by Heather Ackroyd & Dan Harvey       via cubeme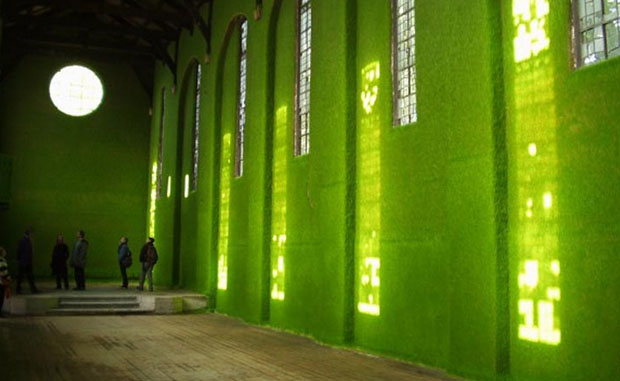 Dilston Grove by Heather Ackroyd & Dan Harvey (2003)       via cubeme
Think of church light — the ingenius play of windows and walls that block the mundane and draw shapes of illumination into the space.  Even when a church is abandoned and no longer considered holy, the light remains.  The walls, the form.  As population grows it builds new churches or loses faith, and these magnificent structures enter the secular.  Some of these formerly eternal spaces get converted into venues for contemporary art installations.
Dilston Grove, once Clare College Mission Church, in South London is a good example.  The artists Heather Ackroyd & Dan Harvey took years photographing the interiors of derelict churches around London.  They discovered this space, made the first installation in it and were instrumental in having the space dedicated to artists.  What they did was cover the church-form walls in clay, impregnate grass seeds, and water.  This use of sacred space seems quite wonderful, strangely potent.  Greenly beautiful.
Ackroyd and Harvey have a varied and intriguing art practice. If you want to know more about them see the links at the bottom.
______________________________________________________________________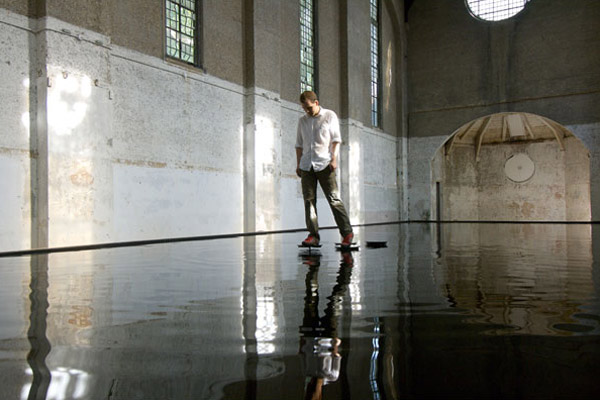 Bridge
by Michael Cross (2006)           via his
website
A later interactive installation in Dilston Hall, Bridge by Michael Cross.
The Bridge is a series of steps which rise up out of the water in front of you as you walk from one to the next, and then disappear back underneath behind you as you go, leaving you stranded with only one step visible in front of you, and one behind. The bridge ends in the middle of the water, where you find yourself totally isolated and cut off from the shore. You return the way you came… The project is on-going will ultimately lead to a permanent installation in a lake.
 ______________________________________________________________________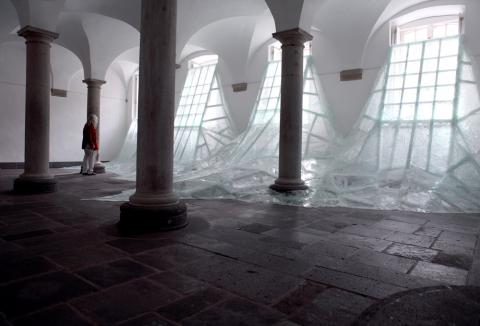 Aerial by Baptiste Debombourg  (2012)      via his website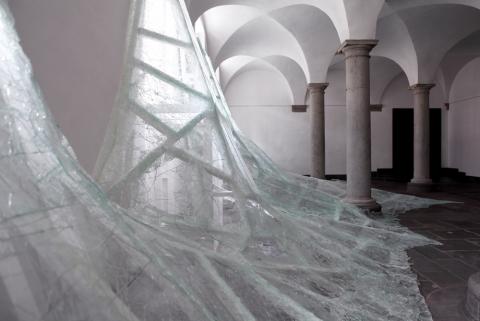 Aerial by Baptiste Debombourg  (2012)      via his website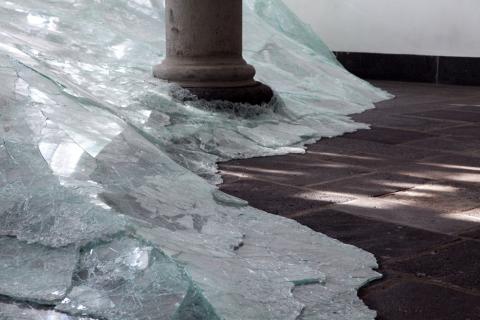 Aerial by Baptiste Debombourg  (2012)      via his website
Ariel was installed at the Abbey Brauweiler in Germany.  The French artist Baptiste Debombourg lists among of Aerial's dimensions 2 tons of glass.  This feels to me like a wonderful use of churchly space, the glass is treated as if it spreads like water, and is very much related to the architecture and its light.
 ______________________________________________________________________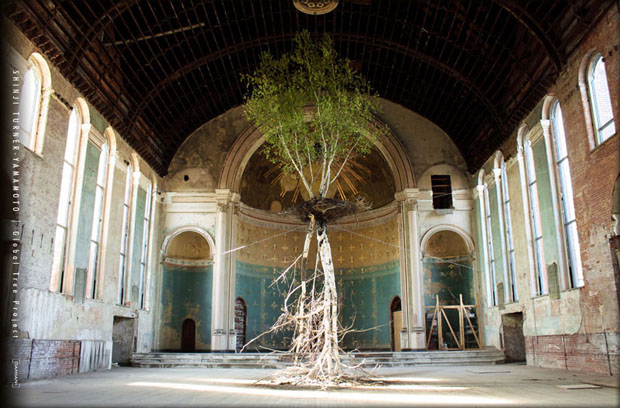 Hanging Garden by Shinji Turner-Yamamoto   (2010)                via his Global Tree Project
The Japanese-born, United States based artist Shinji Turner-Yamamoto works within the framework of his Global Tree Project.  Hanging Garden, above was installed in the abandoned deconsecrated 19th century Holy Cross Church, in Cincinnati, Ohio.
Focused on nature and the environment, Shinji Turner-Yamamoto creates site-specific installations in venues throughout the world that explore the interplay between absence and presence and illuminate the spiritual in nature.   Hanging Garden,  and all Global Tree Projects completed over the last ten years [in 2010] in India, Ireland, Japan, Washington, DC, and Finland, make visible connections and similarities between plant life and humanity, and emphasize the interconnectedness of all life.
These installations by the Global Tree Project are in Baga Gazrin Chululuu, Gobi desert, Mongolia. They are not in church structures but have for me a sacred quality.  The application of gold leaf to a geological mass sets it apart from the mundane landscape.    As does setting a gold-leafed rock into a crotch in a tree.  I doubt the gold leaf will endure but hope the growing tree will embrace the stone and make a wonderment.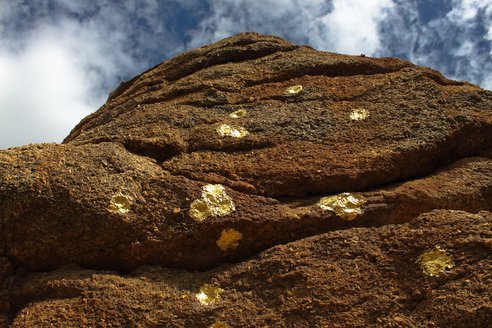 Two Constellatoins by Shinji Turner Yamamoto          via treehugger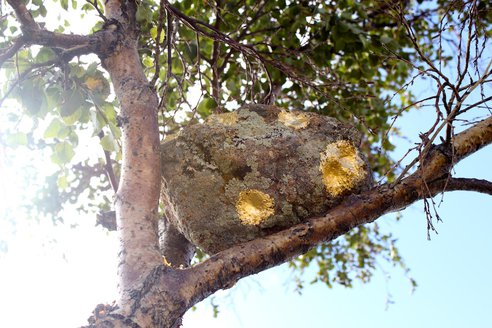 Star Nest  by Shinji Turner Yamamoto          via treehugger
If you're among those who define sacred spaces independently of official religious designations, then your sacred space will still likely have qualities of light and sound that rule out anywhere in Walmart. We have hearts that hunt the marvelous.  The fortunate can recognize it and respond.
______________________________________________________________________
look further
I particularly recommend this website:  Sacred Space: contemporary art
Heather Ackroyd & Dan Harvey
Baptiste Debombourg
Shinji Turner-Yamamoto