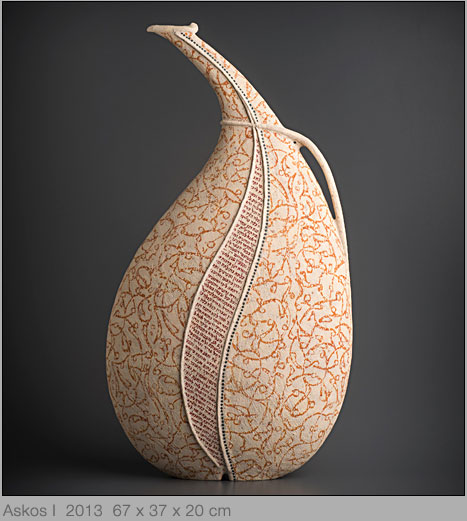 Try to take in that over 7 billion minds are alive with you on Earth today. While you're focused on your thing a Chinese fisherman focuses on his cormorant. He's night fishing in a boat. Lanterns, reflections, birds — and fish.
Among those 7 billion Homo sapiens (noteworthy symbolic skills) are some who have a need to speak with visuals. Artists. How many hundreds of thousands alive today? Among them are the anointed few who are not playing copycat but see a patch of the unknown they must investigate. Vision, direction, grit. And they go exploring a path inside themselves.
Those of us who pay attention to the makers are usually opinionated about who is the real deal. Me too.
So here's The Art of Tuesday, a new feature of this blog. Showcasing under-known makers of visual things who strike me as honest explorers.
On Tuesdays. Please enjoy.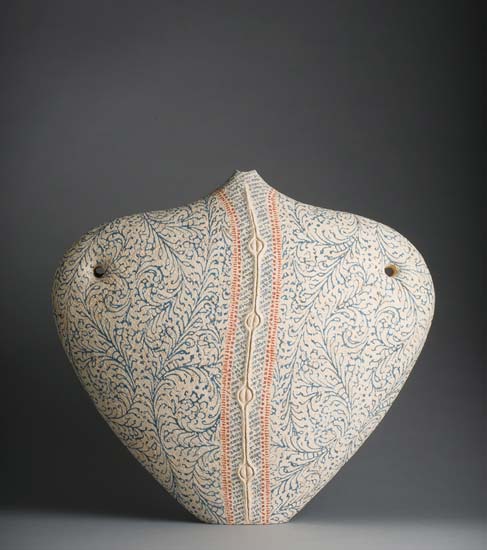 Our inaugural artist works in clay: Avital Sheffer.  Her elegantly shaped vessels have a marked purity of line, with subtle nuance in their changing profiles. Her surfaces have delicate rhythmic decorations often incorporating Hebrew or other Middle Eastern script.
My work is informed by an investigation of my Middle Eastern and Jewish heritage and an ongoing engagement with the landscape, architecture, languages and wisdom of that part of the world, and that way of being in the world.
You look at Sheffer's work and may wonder whether the shapes include ancient fertility goddesses [I always wonder, goddesses or fertile women? fertility itself?]. Some of the surface decoration is as tightly packed as pomegranate seeds — fruit favored as a stand-in for fecundity.  Some of the vessel tops make convincing phallic symbols, some vessels are cloven at the base. Pudenda? legs? Looking at her earlier work you see an anthropometric urge, and a theme of home and housing.  The words she selects for her surfaces must have rich meanings for her.
Though I use the word ceramics promiscuously Sheffer's work is earthenware clay dry-glazed and printed. Earthy material not to be confused with gleaming porcelain.
A native Israeli, she's now based in Australia.  Her background "encompasses textile design and fashion, town planning and building design, classical homeopathy and the establishment of an alternative community in Western Galilee, where traditional farming methods were practiced in collaboration with neighbouring Arab villages."
This helps to explain the methods used in creating her pieces. Textile design is especially illuminating for me.
[She] employs hand-forming techniques along with a unique printing practice to which she brings her life experience in working with other mediums.
Avital Sheffer is a real explorer.  All quotes and images here are from her website avitalsheffer.com.