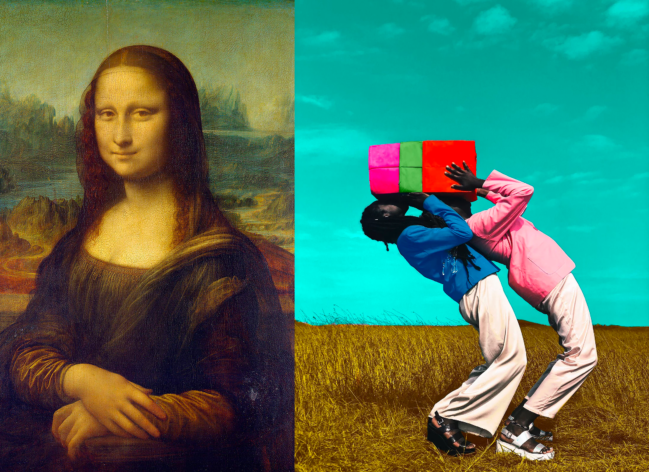 Free Use, Copyright Law
(Please also read next post)
Testing, testing. Above we have two images. One is by Leonardo da Vinci whom you may have heard of by now. I know lots about her making, down to the wood that she's painted on and how it warps seasonally. Green and brown is among my favorite color combinations and lend themselves to the Mona Lisa's harmonious charm.
The image is copyright-free on Wikipedia. The image on the right is a screen grab from the website of Prince Gyasi, a Ghanaian. I do not have permission to use the image but I want to say that the artist's achievement of supra-natural colors is the work of an iPhone. His experiments with photo-printing papers call attention to his curiosity.
In my view Gyasi is a fine artist. Da Vinci too. Gyasi photographs the stunning beauty of black black skin. His figures are rhythmic. Da Vinci's rhythms are more subdued, have gentleness, grace. Gyasi is younger and his energy sings out. His inventiveness — as in the piece above — has nothing to do with the culmination of years of study. The artist's focus is when the camera clicks.
––––––––––
I continue my tussle with the rights and particulars of copyright laws, specifically what is fair use to a blogger? My use of the works above is a test. I hope Mr Gyasi takes no offense at my using his distinctive work. It's worth blogging about and I believe I've discoursed on it enough to claim fair use when using it.
The only identifiable face exposed is Mona Lisa's. So no rights infringement there.
When I wrote my profile of Deborah Roberts I was denied the use of images by Stephen Friedman Gallery in London. That made my piece on Roberts less powerful and convincing, more challenging for the reader to decode. And it does the artist, getting less clarity or boost, no favors.
What you want a profile to provide is the flavor of the artist. It should not be hide'n'seek, bait'n'switch. Follow the links — surprise! — you're the researcher now.
For months I've been compiling material for an essay on Furniture in Art. A survey. May I address this topic? By all means. Can I illustrate the survey with widespread examples and still claim fair use? Will that hold true in Bulgaria?
If I use no more than one image from each artist? If the essay remarks on the image and why it's relevant here? Will Chinese law disagree?
Will USA law agree? British? (Stephen Friedman Gallery, London.)
Why — if I cannot receive even as much as pocket-change from my profile — can't I use low-resolution, significantly downsized replicas of artworks?
What is free speech to a commentator on the visual arts without showing examples of the visual arts under discussion? Can a gallery refuse me use but can fair use rights override their no?
––––––––––
This is a test. Soon I'll do another with an essay on furniture in art. Live, test the limits and learn.
––––––––––