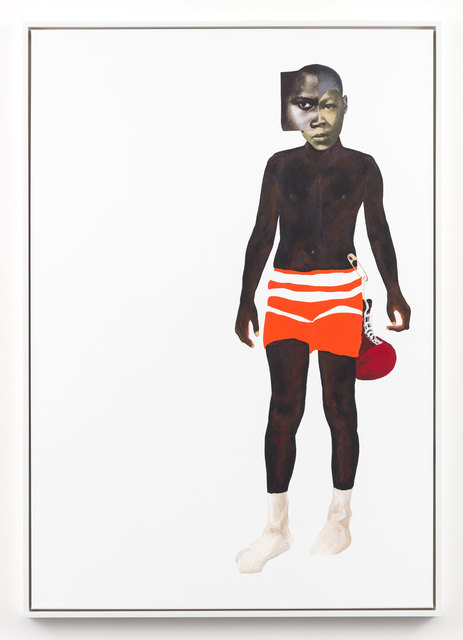 Addendum (11.01.20.) I've received feedback that some think Deborah Roberts is a so-so artist. I emphatically disagree. I also disagree – – jumping up and down disagree — with the ambiguity of copyright law, in that what's fair use and what isn't seems to be about how big a law firm you can afford.
Deborah Roberts, Pieces Made into Wholeness
This powerhouse artist minces no words. She's cut her way through photographs and found images and assembled the pieces into believable disjointed faces whose strong emotions you feel viscerally. Collage is fundamentally piecework but Roberts' non-negotiable expressions lead me to call her collages wholework. These people are not composed for a pricey oil portrait, they're caught in living moments. Mind-fuck situations. Trying to make Tab A fit in Slot B when Tab A is made of living crabs and Slot B is an unapproachable black hole.
I remember once as a child, after my father had spanked me he began applauding and and jeering why didn't I really cry? A little white girl in a home of refined tastes.  I felt in that outraged moment like the Pacific Ocean was trying to collide with Mars. Does not connect. In life you love and sometimes love knocks you clear off your pivot. Rarely, which is why it's such a shove.
Recently the journalist Kristen Welker moderated 2020's third Presidential debate. She happens to be Black which means she knows about what Black people know as The Talk — the mandatory indoctrination for Black children by their parents on how not to provoke a White person into killing you. Ms Welker asked each candidate to comment on The Talk.
I take nothing from my furious little girl self. You can only react to the cards you're holding. But my grown-up self tries to imagine The Talk. My parents tutoring me how to stay alive when in the company of other-skinned police. How to live in a society that prides itself on fairness — but, by the way, no one means Black people. You're out of luck, brace yourself.
You want incomprehensible? White girl, bite down on that.
__________
Deborah Roberts's pieces give special attention to several parts of portraiture. The face is primary and it's uncanny how well the artist can tell which pieces make emotions plain. Meaning complex but plainly seeable. Say a questioning face with iron determination in it. Two pieces that we can read together.
My impression is that Roberts inks in the Black hairdos. Making the photographs less personal, recognizable.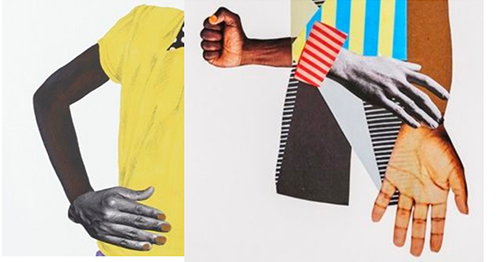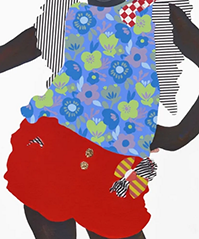 The hands are a focus, often way outsized for the character. There's always invention and immaturity in the poses of the young girls.  She keeps growing as an artist, adding boys, women, men. And most notably — you feel it in your solar plexus — she's added pieces of white faces, white hands into the troubled identity of her Black people.
You should also attend to her choice of footwear. When the subject's feet are included Roberts is picky about the socks and shoes. Her people dress with personality.
Lastly, the torso seems to have a particular meaning. You'd swear the artist isn't paying attention until you see how unerringly a rectangle of stripes shows just how a subject's shoulders would sit. Also the torso is where Roberts can indulge her fancy in highly patterned and often wild clothing.
The figures are so startlingly realistic you lose sight of how surreal they actually are. I look at Roberts' figures and say Of course. The artist treats the ratio of surreal and real like a rock guitarist a wah-wah pedal. Some works feature crazy exaggerations. Others put their foot down decisively. No experimenting here.

The first art I ever made that wasn't someone else's was collage. I have strong feelings about it. It's in this context that I look at Deborah Roberts' work with great respect. What seems weightless and little thought can only be due to deep seeing. The parts she exaggerates, those she sets akimbo, the sketchy arms, the ink hairdos — don't take these for granted. The way she weights her works is telling. Meaningful.
See more of her work at the links below. [For an explanation of why I illustrate Roberts' fine work with lame illustrations see the next post on Copyright and Fair Use.]
_____________
PPS: This image mix was culled from a web search. I'm suggesting it is fair use to showcase Roberts' evocative range.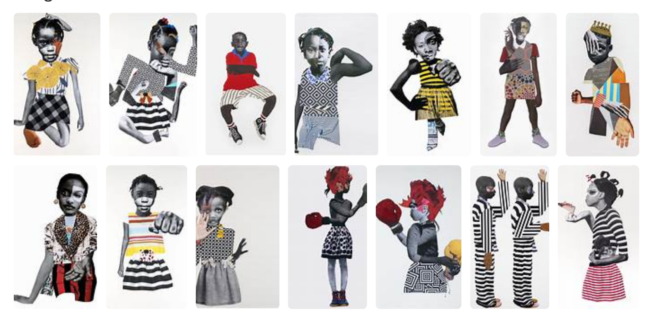 __________
Deborah Roberts's Gripping Collages Reconfigure Girlhood —  includes artist photo
Deborah Roberts at Stephen Friedman Gallery
The Breakthrough Women of Artist Deborah Roberts