This is the reconstruction of a June 19 blog post that suffered digital destruction.  Comments evaporated, updates have been made.
__________________________________
 Lucid line, a line you can read as an image or as text, is the last form of light painting we'll look at right now.*  Here's one of Picasso's famous light drawings done with Gjon Mili behind the camera.  A bull, an image Picasso could inscribe on blind air.  And another just below it.  Which came first?  Surely the top image is more complex and assured than the other.  Trust Picasso to get the scrotum and pizzle in place before truing up the tail and hind legs.
__________________________________
Imagine drawing on a void.  You leave no line that your eye can go back and coordinate with.  Scale? Position?  Your hand moves and must keep moving, where your hand has been exists only in memory — and on the photo film that accumulates the entire gesture over time.  Only there will you know if your gesture's been readable.  Ah, a bull.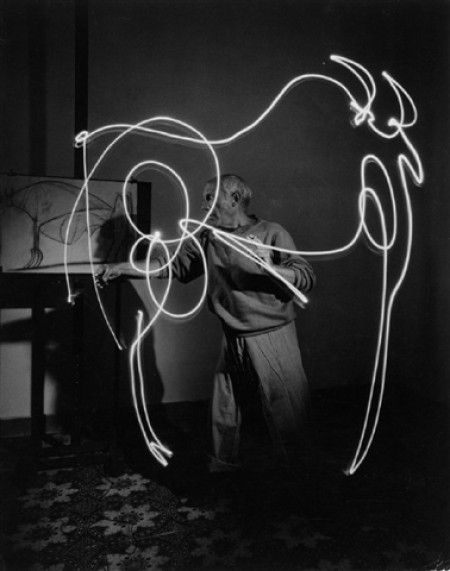 Pablo Picasso light drawing      via Art Before Sleep (May 2, 2012)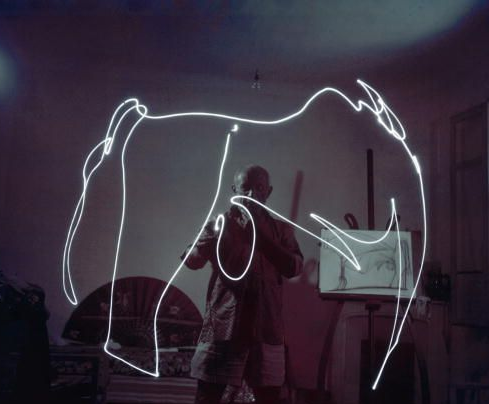 Pablo Picasso light drawing      via Art Before Sleep (May 2, 2012)
 Picasso certainly gave us many bulls and centaurs — paintings, etchings, painted pottery.  So he could accomplish these light drawings with their fast-fading line, and they're true to his style, they're real drawings.
________________________________________
Drawing pictures with light doesn't dominate current light painting, but it does exist.  Take this funny sketch — the dog's a great dog in the best Thurber-GeorgeBooth tradition.  The frisbee's a dream addition — and this looks to be a two-handed drawing too.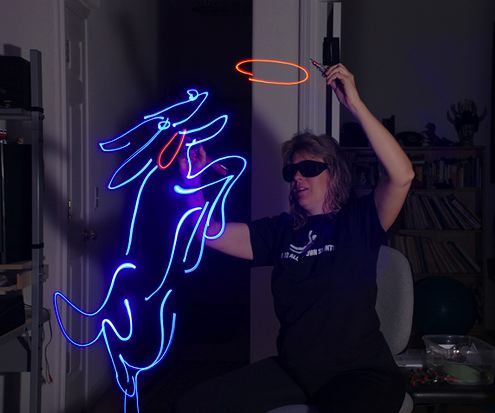 Behind the Scenes by UnklStuart on Flickr      via Blog of Francesco Mugnai
________________________________________
Jason Page is founder of the website Light Painting Photography, a rich resource for this work.
I keep trying to figure out how this was done — at first I thought he was out in the water, the dragonflies seem to belong there, but there are no reflections.  Then I thought he was foreground of the lake, on a deck or balcony,  And then again there's a purple reflection as if in plate glass, but then why aren't the dragonflies reflecting?  I'm baffled.  [Later note: Jason quite rightly is not ready to share his technique.)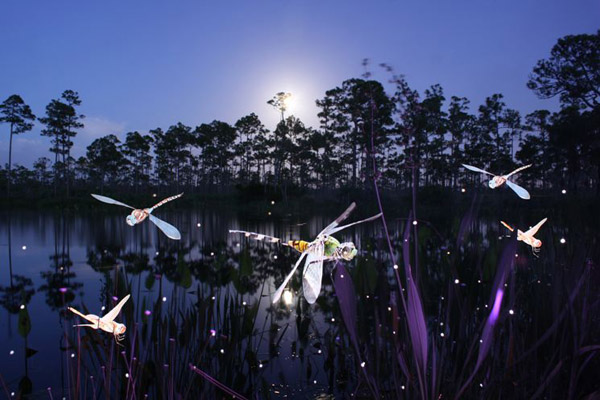 Dragonflies #4 by Jason D. Page         via Light Painting Photography
________________________________________
The next two are by Brian Hart, the first a sketch: we know a man and woman when we see them.  His more recent work is more demanding, involving colors and rigor.  Hart describes the hands below as a practice wherein he dissects an image, here in 24 sections, and then makes a photo of his light drawing one section at a time.  He's evolved a set-up where he can feast his eyes on one of the 24 images, turn off the light and recreate the image in the dark.
If you have experience with drawing you'll recognize how hard it is to set a form down on paper and to then come back and fill in a background.  Especially with a point tool — pencil, pen, light pen.  Hart has set out to do this in the dark.
Because I began by talking about lucid line I want to note that Hart's hands are not in that category.  There's not one line that describes the hand, there's an explosion of lines that create the form.  I'm reminded more of painting technique than line drawing, there's shading and a glory in the texture he creates.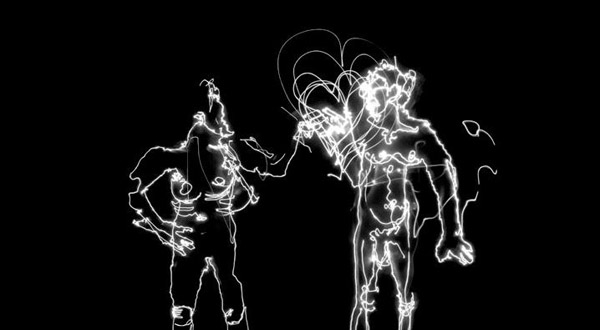 04 by Brian Hart      via Light Painting Photography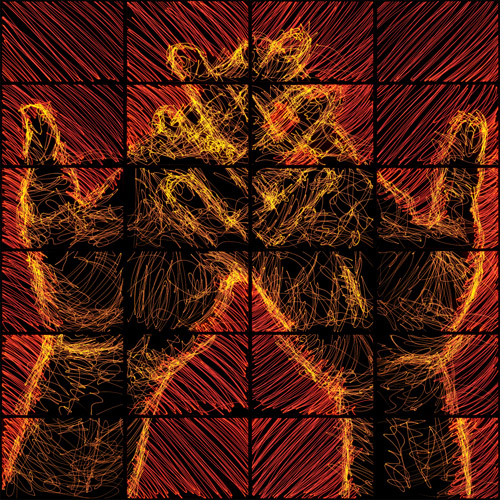 jr by Brian Matthew Hart      via his website
________________________________________
David Lebe has an artier line,as if he's experienced in sketching with ink or pencil.  He's good.  Again, is it freehand or is it traced?  In the second example you see more advanced technique.  The light source near the figure's foot must have spotlighted the flowers against the wall in one exposure, and the outlining and/or drawing came afterward with the spotlight off.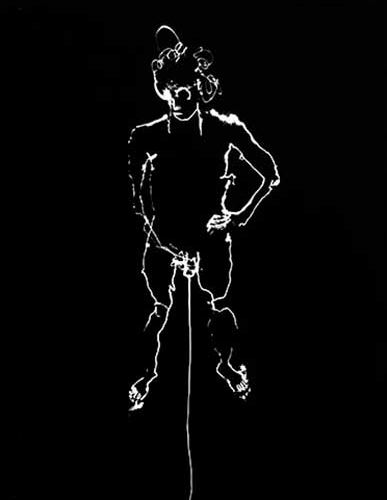 Pissing, Self Portrait #6, 1976 by David Lebe      via Carrie Haddad Gallery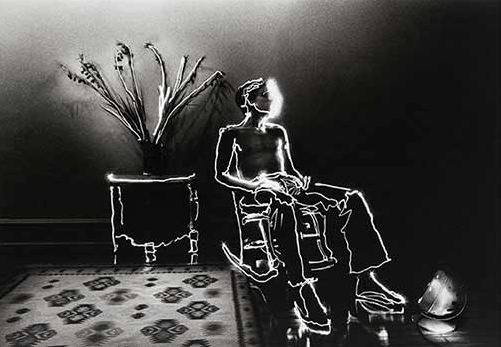 Barry in Rocker by David Lebe   via Light Painting Photography
_ ________________________________________
The other sort of lucid line is calligraphy.  Vicki DaSilva is credited with inventing light graffiti, the written word in blank space.  Her most well-known piece is a tribute to Chinese dissident artist Ai Weiwei, Jasmine / Never Sorry (for Ai Weiwei).  [See also my June 15 post for DaSilva's work with larger lights.]
Below is the Ai Weiwei piece.   And below this a video shows us DaSilva's gift of writing blindly, staying legible, and fitting a space.   Her videos are a treat to watch — nimble, deft and sure, an economy of movement you'd expect in martial arts.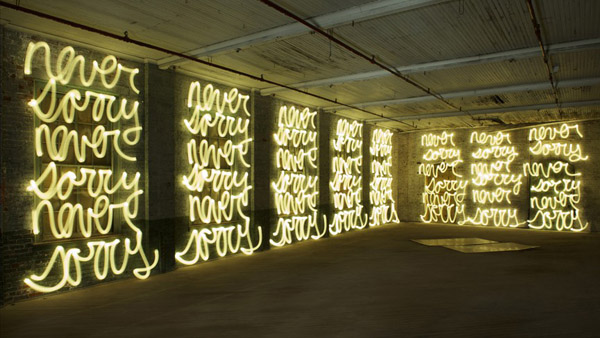 Jasmine / Never Sorry (for Ai Weiwei
 by Vicki DaSilva      via her 
website
[youtube]https://www.youtube.com/watch?v=UOT_sEqtDXY[/youtube]
  Vicki DaSilva in motion — creating her Ai Weiwei piece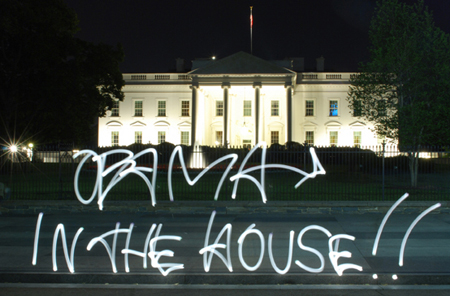 ________________________________________
I also admire the light calligraphy (light-graff) by Jadikan-LP.**  He's suggested these two images to showcase his work in the form.  I love how he's creating more complex compositions and using color in exciting ways.
Light-graff isn't easily pigeonholed.  It writes, decisively writes, but whether there's a message in the calligraphic forms is moot.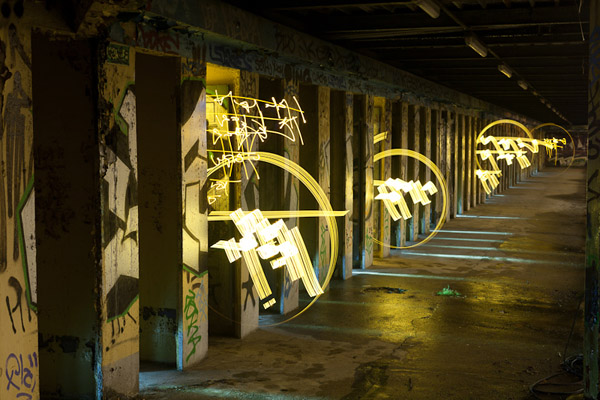 by Jadikan-LP    courtesy the artist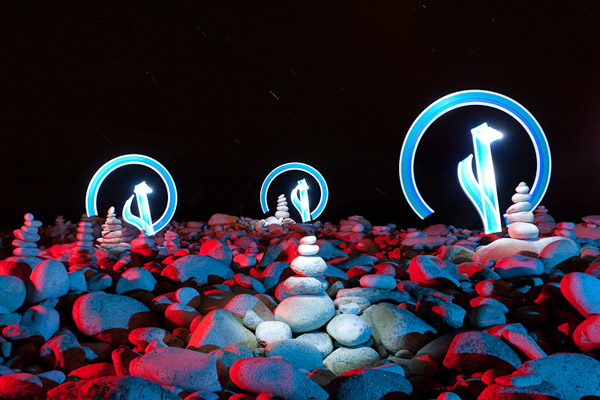 by Jadikan-LP    courtesy the artist
________________________________________
Lastly, this exquisite work is by Julien Breton, aka Kaalam.  His elegance of line, his skill in tempering line width, you'd swear he was using a calligrapher's nibs instead of light.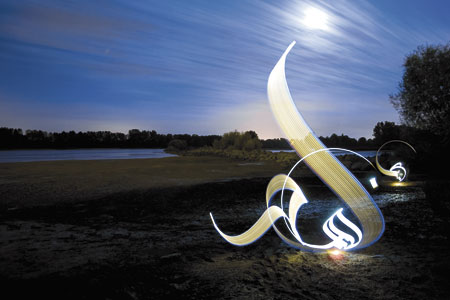 not titled by Julien Breton, aka Kaalam     via emel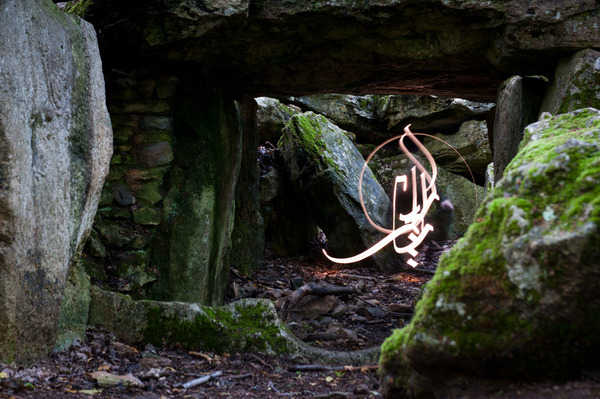 intimité – Dampsmesil by Julien Breton, aka Kaalam       via his Behance page
________________________________________
Coda.  I've had about a week of nonstop focus on light painting, and it's been a glorious ride.  Impressive amounts of artistic energy are pouring into it.  I see growth, technical and stylistic.  I see innovation and curiosity.
My brain requests a vacation but we'll revisit this field again.
________________________________________
*  See also June 15 and June 17
**  See also June 17