Note: This is the reworking of a June 21 post that was lost (with some others) in a server glitch.
_________________________________________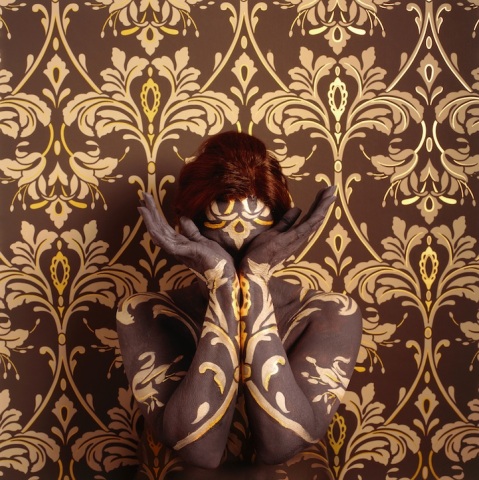 Cecilia Paredes         via chicquero
Some artists practice camouflage as part of their art.  They get painted to match a background.   Thereby getting painted into it?   Or painted out of our awareness?
Ceclia Paredes and Verushcka, being normal humans, will have an intricate weave of reasons why they're having themselves painted in/out.  It's laughably unlikely that none of these has to do with being female in a traditionally androcentric society.  Bo-lin is here to remind us that no reason's ever quite that crisp.
The Chinese Liu Bolin is easier to explain — he says his work is about an individual getting lost in mass culture.  He's known as  the Invisible Man – and you'll agree.   Liu Bolin stays clothed.  With the Peruvian Cecilia Paredes and German Verushcka (Vera Lehndorff) — both women — nakedness is often part of the artform.
It would be mad to ignore the factor of sexuality in the body-painting work Paredes and Veruschka do.  Mostly it's their naked flesh, there are others applying paint, flesh is built to have sensations.  As with the political side of their work, this notion is worth including in our evaluations.  Yet notions are never proofs.  Because is a tricky word best left to theoretical physicists and researchers hunting cures.
 Being a woman is a complex experience.  There are issues of being a product too much on view, and, with age, of no longer being seeable.  The male gaze goes. How women deal with that — makeup, clothing, gait, push  – changes throughout a lifetime.  And whether that's what painting their bodies is about, they're the ones who know.
_________________________________________
Here again we see that photography stands as the proof, the artifact, the "work." The salable, the viewable it.  Paint a canvas, hang it on the gallery wall, get painted into a scene, hang a photograph of that.  You're gonna be out there 24/7?  You're sure to get an itch.
 _________________________________________
I like that Cecilia Pareses tests herself with different poses, we see her body, or just her arms, or she stares us in the face.  Interesting that in many poses the hair is left to speak for itself.  Not hidden under a painted swimming cap, it's there.  In the top photo it seems to be a red wig.  Paredes also experiments with painted clothing, not just flesh — there's even one where she's completely collaged over with what looks like the wallpaper she stands before.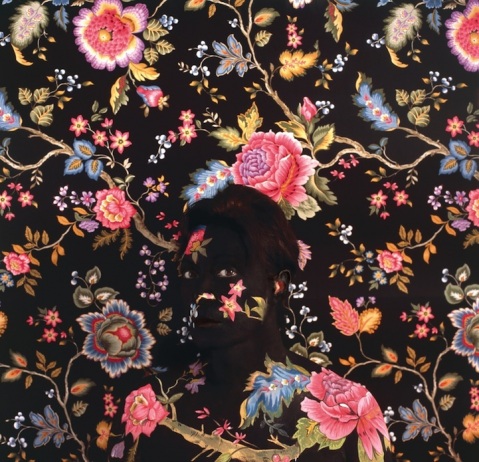 Cecilia Paredes         via chicquero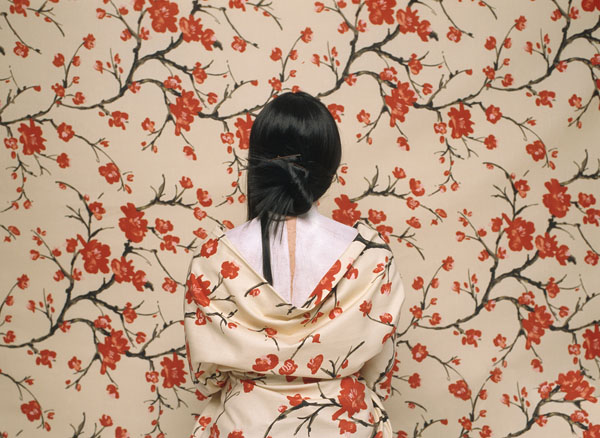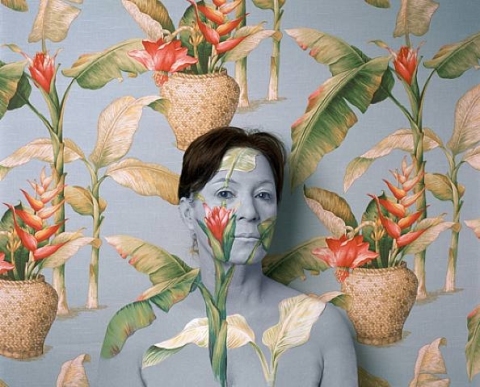 _____________________________________________________
Veruschka (Vera Lehndorff) has had an extraordinary career, a stunning supermodel who got bored and started painting herself.  She's worked with photographer Holger Trülzsch since 1966 and the two have painted Veruschka to blend into a variety of backgrounds, with greater and lesser degrees of camouflage.  If you can get your hands on a copy of their Trans-figurations book I recommend it.   Essays by Lehndorff and Trülzsch, an introduction by Susan Sontag.  You see a range of visual strategies they explored.  Also sets of shots where Veruschka steps aside from the area she's painted to blend in with and you appreciate how terrific their camouflage skills get.  In the second photo here, where she blends into wall and sky, you see a version where she dips her shoulders below the skyline.  A moment — a cloud has moved just slightly in the sky – but her blue shoulders now against the white wall break the spell.
Below we see how she began by being painted and progressed to being painted in/out.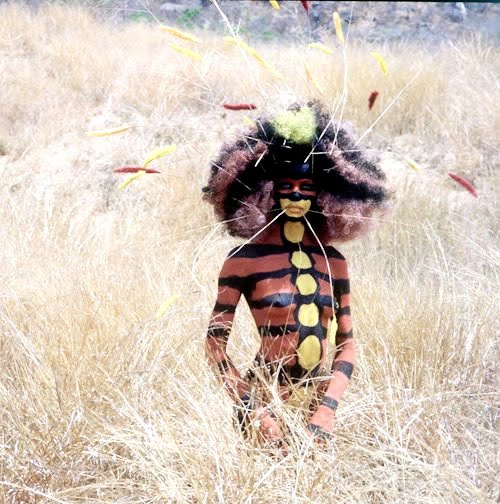 Veruschka in Africa    via paperpursuits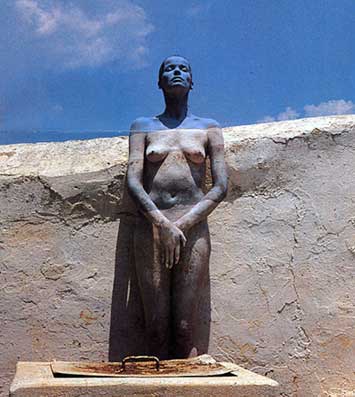 Vera Lehndorff and  Holger Trülzsch photo            via Anya Roz blog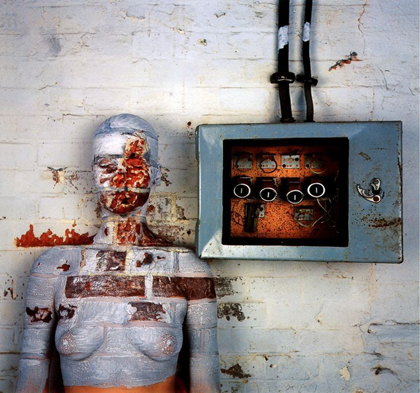 Vera Lehndorff and  Holger Trülzsch photo         via boomers-book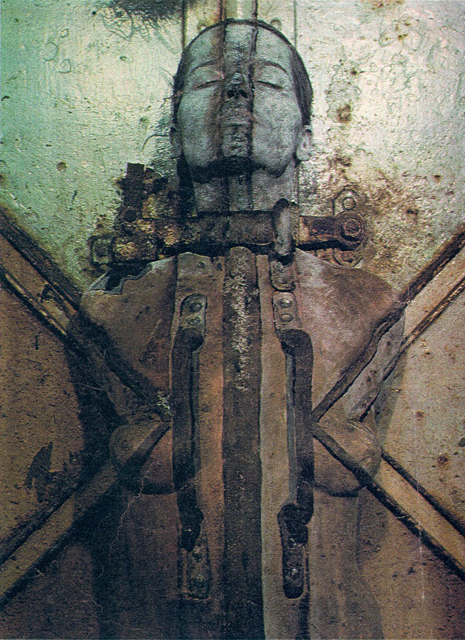 Vera Lehndorff and  Holger Trülzsch photo         via essence-of-entities
_____________________________________________________
Liu Bolin is also known as the Invisible Man.  You'll see why.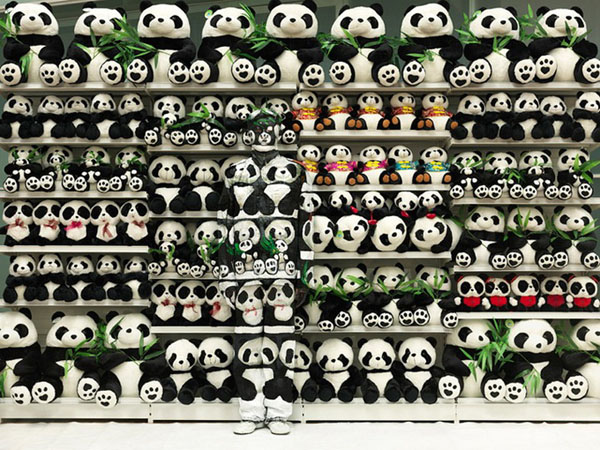 Liu Bolin via My Modern Met
Liu Bolin via designboom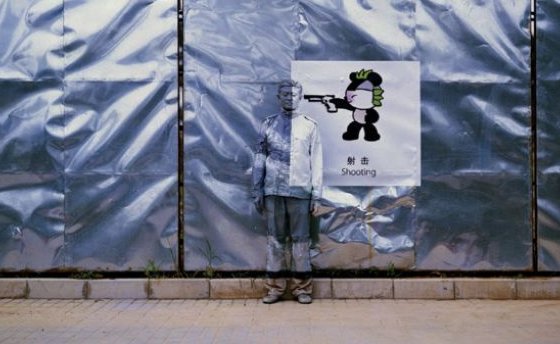 Liu Bolin        via Monster Casserole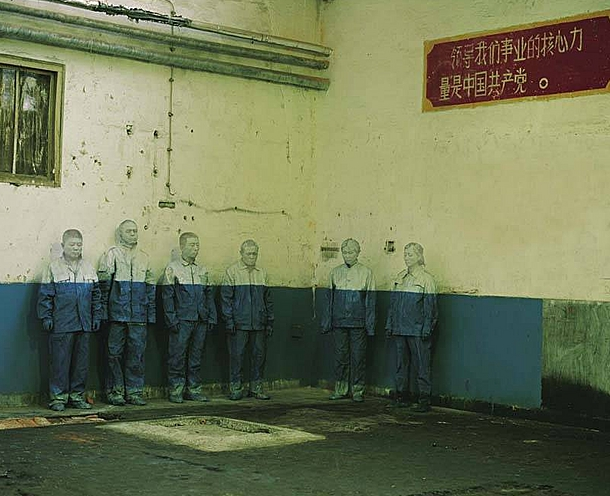 Hiding in the City No 18, 2006 – Laid Off by Liu Bolin        via Eli Klein Fine Art
_____________________________________________________
So are these people painted in or painted out?  Define the cloud.
_____________________________________________________
look further:
Cecilia Paredes
Veruschka
Liu Bolin
Liu Bolin at Eli Klein Fine Art
photos documenting stages of Liu Bolin being painted at the dragon mural (above) — but you'll have to dig for them.  no individual URLs
photos documenting Liu Bolin and French street artist JR creating a project in New York