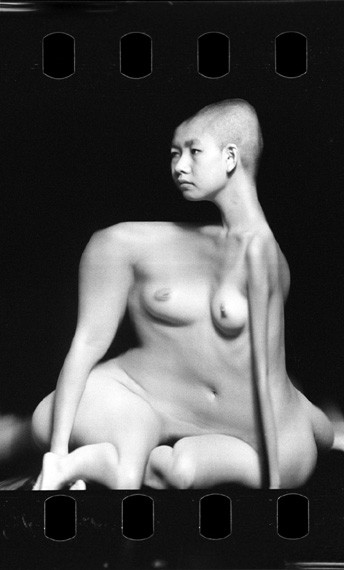 Panning Peripheral Portrait of Linda by Andrew Davidhazy     via his website
Look at this photograph and ask yourself, Could Picasso visualize such distortions in his head? Andrew Davidhazy  made this experimental photograph 20 years after the master painter died.  For me at least there's deep satisfaction in the artistic warping of human form.  It tells us truths we can only feel, that realism conceals by our staid reliance on the ordinary
__________________________________________________
Years ago I discovered Andre Kertesz's book of photographs Distortions at the library.  Took it out so many times I finally begged my own copy for Christmas.  What Kertesz created with his nude models and the funhouse mirror is timeless, wondrous and beautiful.  Or you may yelp Not for me.  But for those of us with the affinity there's endless fascination in the work and in the artistic techniques that create distortion.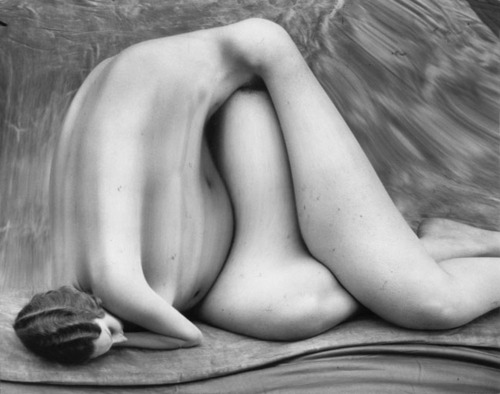 Distortion by Andre Kertesz    via quatemases on Tumblr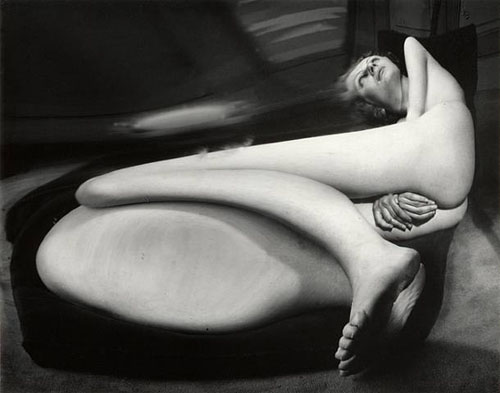 Andre Kertesz Distortion #40       via thegreatexposition.com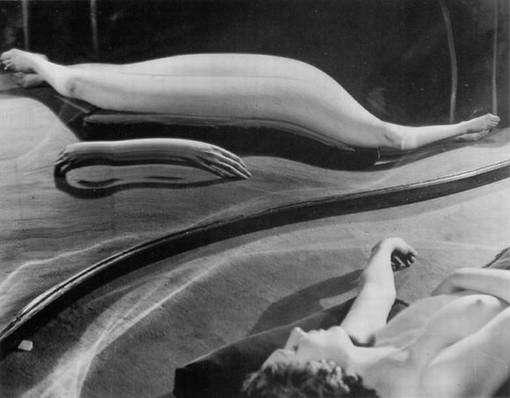 Distortion by Andre Kertesz    via …y mientras tanto // …and meanwhile
_____________________________________________
A good place to go for inspiration is the website of Rochester Institute of Technology professor Andrew Davidhazy, author of the gorgeous image at the top.  The site's a bit overwhelming — I've suggested some pages at the bottom here.  Here are some of his images which may inspire you to your own camera experiments.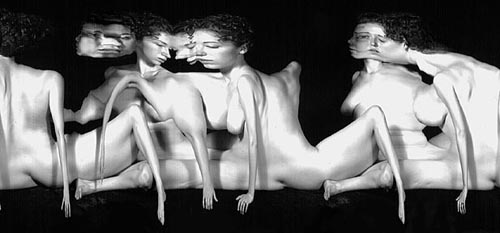 Peripheral portrait with improvised digital camera, Sarah by Andrew Davidhazy   via his website here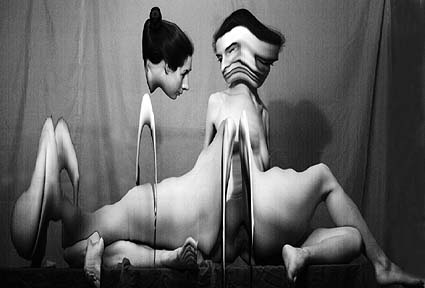 I find I'm most fascinated by Davidhazy's peripheral photography techniques but you may find that something hooks you in his many other studies, such as his Conical Panoramic Photographs (his Eiffel Tower is below), his Vortices in Water here, or his Splashes here.
He appears to relish communications so I will query him on his improvised camera peripheral portraits.  You may have technical questions he can answer too.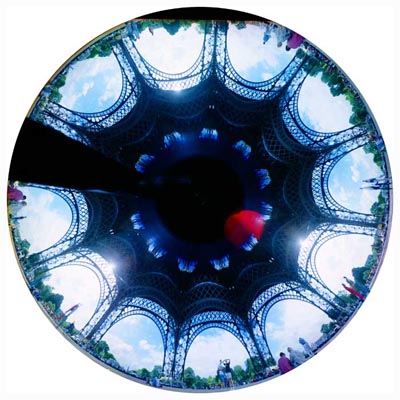 Davidhazy's paris-eiffel-2
_____________________________________________
Coda: I couldn't stop myself.  I've just ordered a rolled plastic funhouse mirror.  Always wanted one.  I think there's an unrolled place for it in my house.  Will others agree?
Image (and soon the mirror) from carnivalmirror.com
Camera time!
_____________________________________________
My next blog post will continue this theme of distortion and the artistic means thereto.
look further:
Andrew Davidhazy
Andre Kertesz
•  In 1933 Kertész was commissioned for the series, Distortion, about 200 photographs of Najinskaya Verackhatz and Nadia Kasine, two models portrayed nude and in various poses, with their reflections caught in a combination of distortion mirrors, similar to a carnival's house of mirrors. In some photographs, only certain limbs or features were visible in the reflection. Some images also appeared in the 2 March issue of the "girly magazine" Le Sourire and in the 15 September 1933 issue of Arts et métiers graphiques.[1][4] Later that year, Kertész published the book Distortions, a collection of the work.[8]                      via Wikipedia here
•  The photographs are characterized precisely by the pure formal investigation into the shapes of the female nude reflected in the wavy surface of the carnival mirror. Kertesz began the Distortions as an assignment for the humor magazine Le Sourire. Before 1933 Kertesz had already experimented seriously with distortions which were created by various surfaces, such as water, mirrors and glass spheres. For instance, around 1930 he had made several distorted, humoristic portraits of his friend and caricaturist Carlo Rim in the mirrors at Luna Park. Kertesz accepted the assignment from Le Sourire, and had two mirrors from Luna Park placed in the studio which was made available to him. Very quickly he became so fascinated with the disorienting results that he decided to make a larger series than was necessary for the commission.     via HubPages here
see also  my blog post of July 26, 2012:  In New York: Mirror Mirror